WorldLink ChatBot: Transforming the best service with AI

With the newest technology and reliable solutions, WorldLink has continually kept a leading position in the fast-paced world of telecommunications. Our goal is to improve customer experience and make sure you stay connected without interruption in addition to offering outstanding connection.
Innovation is embedded at WorldLink; it's not simply a trendy word. Our steadfast dedication to excellence and our mission of "connecting everyone, anywhere, all the time" motivate us to continuously look for ground-breaking solutions such innovation is our AI-powered ChatBot, a testament to our dedication to enriching the lives of our customers through world-class service.
What is the WorldLink Chatbot?
WorldLink's chatbot is an artificial intelligence (AI)–powered with a virtual assistant designed to assist customers with a wide range of queries and tasks. Whether you're seeking information about services, troubleshooting technical issues, or simply looking to pay your bill, the chatbot is here to help. With the chatbot, we're not just providing answers; we're providing solutions that cater to your unique needs.
Customers can easily access this innovative feature through both the WorldLink website and WhatsApp at +977 9801523051. This makes it incredibly convenient for customers to receive the support they require, as they can choose the platform that suits them best. Whether they prefer browsing the website or using WhatsApp, WorldLink ensures that customers can easily get the assistance they need with just a few clicks or messages.
Whether you need assistance with checking your internet connection, retrieving forgotten internet passwords, resolving NETTV issues, or dealing with any account-related problems, the chatbot has you covered. It acts as a one-stop solution for many common queries and concerns.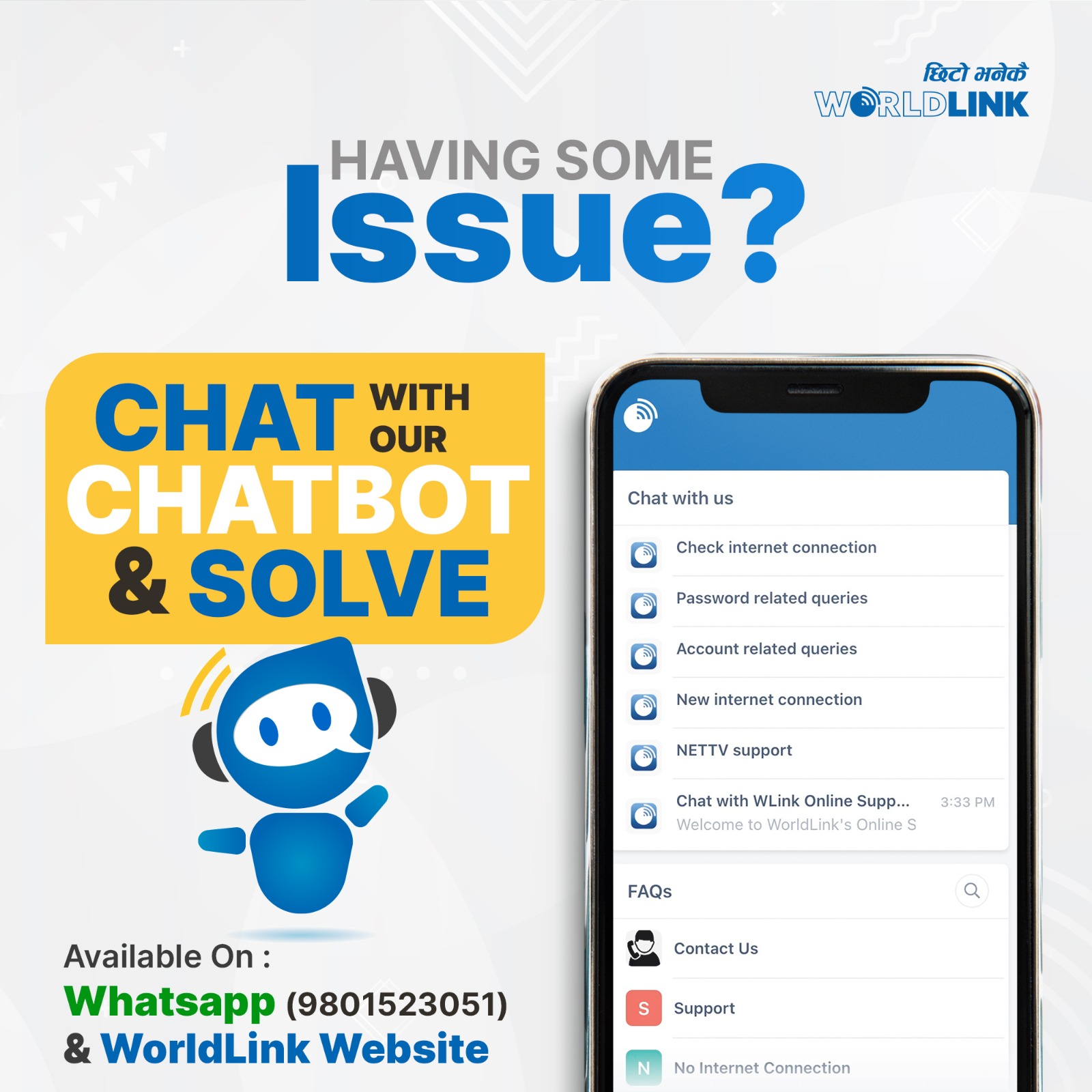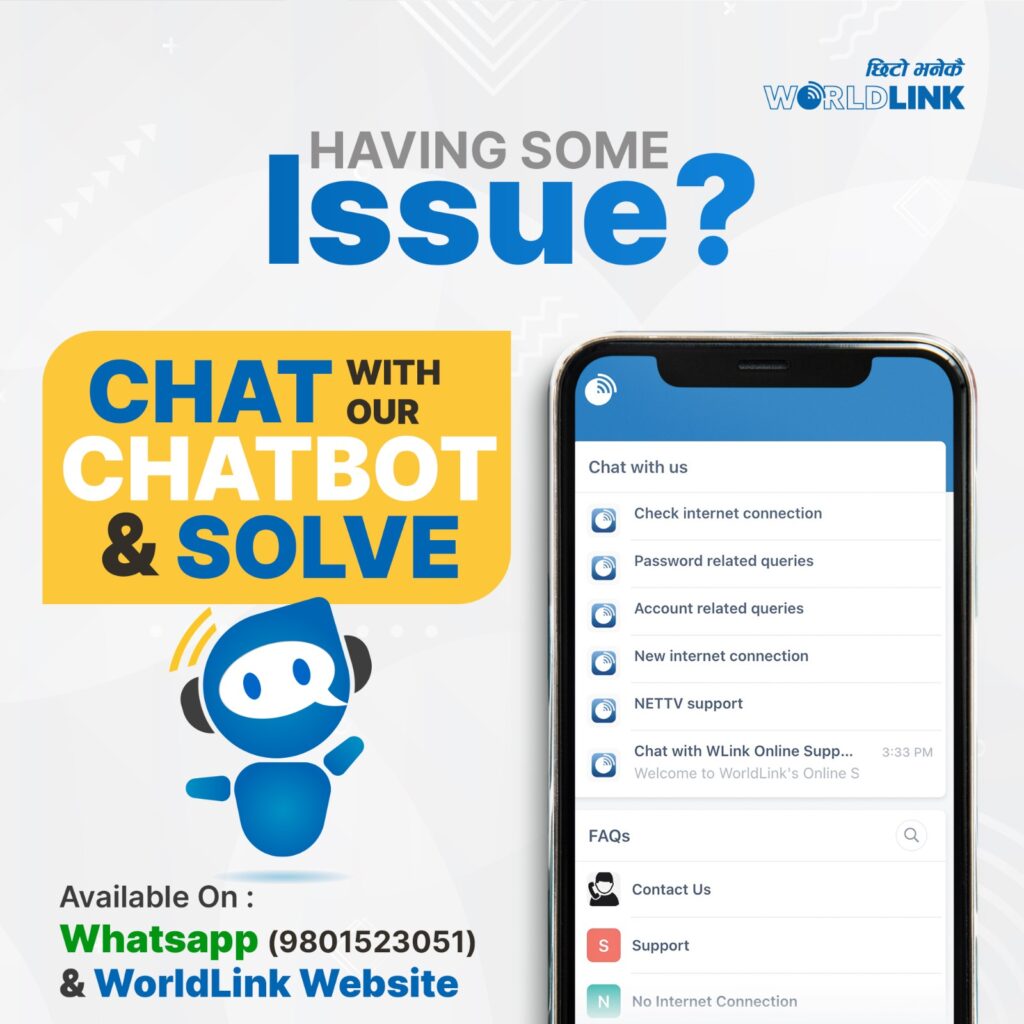 The Major Benefits of WorldLink's Chatbot
For Our Customers
24/7 Availability:
Whether you prefer accessing support through the WorldLink website or WhatsApp, the chatbot is available on both platforms, providing a convenient and seamless experience for customers. Need help outside of business hours? No problem! The chatbot is accessible 24/7, so you can get assistance whenever you need it. So, Say goodbye to waiting on hold. WorldLink's chatbot provides immediate responses, ensuring your questions are answered promptly.
Efficiency:
The chatbot is designed to understand and cater to each customer's unique needs. It offers personalized recommendations and solutions, ensuring a tailored experience for every user. Also, the chatbot is equipped to handle multiple inquiries simultaneously, offering efficient service even during peak times. Moreover, the chatbot goes beyond just answering queries. It proactively offers helpful suggestions, tips, and guidance, anticipating your needs and providing proactive assistance.
Consistency:
The chatbot is equipped with a vast knowledge base and consistency that is continuously updated with the latest information and solutions. It can provide detailed and accurate answers to a wide range of questions and concerns. Every customer receives the same high-quality service and accurate information, ensuring a consistent user experience.
Ease of Use:
The chatbot is user-friendly and intuitive, making it easy for customers to interact with and navigate. It simplifies the support process and ensures a smooth and hassle-free experience. The chatbot offers a diverse range of support services, ensuring that customers can find solutions to various issues.  It also assists customers in scheduling shifting dates and support calls, streamlining the process of moving or seeking technical assistance. This feature not only saves time but also enhances the overall customer experience.
How Can Customers Access the Chatbot?
WorldLink's chatbot is conveniently accessible through social media platforms, simplifying the support process for our customers. With this feature, you can seamlessly and efficiently obtain the assistance you require, all within the convenience of just two social media channels :
WorldLink Website
Visit worldlink.com.np and look for the chatbot icon in the right bottom corner. Click to initiate a chat as per your required queries.
You can access our friendly chatbot by clicking on the chatbot icon on the bottom-right corner of the WorldLink website, as shown in the screenshot below:
When you click the chatbot symbol, a pop-up tab with a variety of alternatives aimed at answering your specific questions appears. To help you address your concerns, feel free to choose any of the above options.
Here, we're going to choose "Extend my account" from the many queries that are available for you to relate to your questions to show you how it all works.
After selecting the "Extend My Account" provided from the pop-query, you will be asked for your WorldLink account phone number.
After you have entered your registered phone number, you will receive an OTP code on your mobile or registered email address.
Enter your OTP, and the ChatBot will go through your account history and then extend your internet days easily. Please note, If your account has enough days left and doesn't need to be extended, ChatBot will notify you about it. 
WorldLink Whatsapp Number
The ChatBot isn't limited to the WorldLink website alone; we've taken steps to integrate it seamlessly with WhatsApp for added convenience:
(+977 9801523051) https://bit.ly/37hkFfB
To initiate a chat with the ChatBot on WhatsApp, simply send a 'Hi!' message to WorldLink Support. Once you do, you'll receive a warm welcome from our ChatBot and a confirmation message for your registered number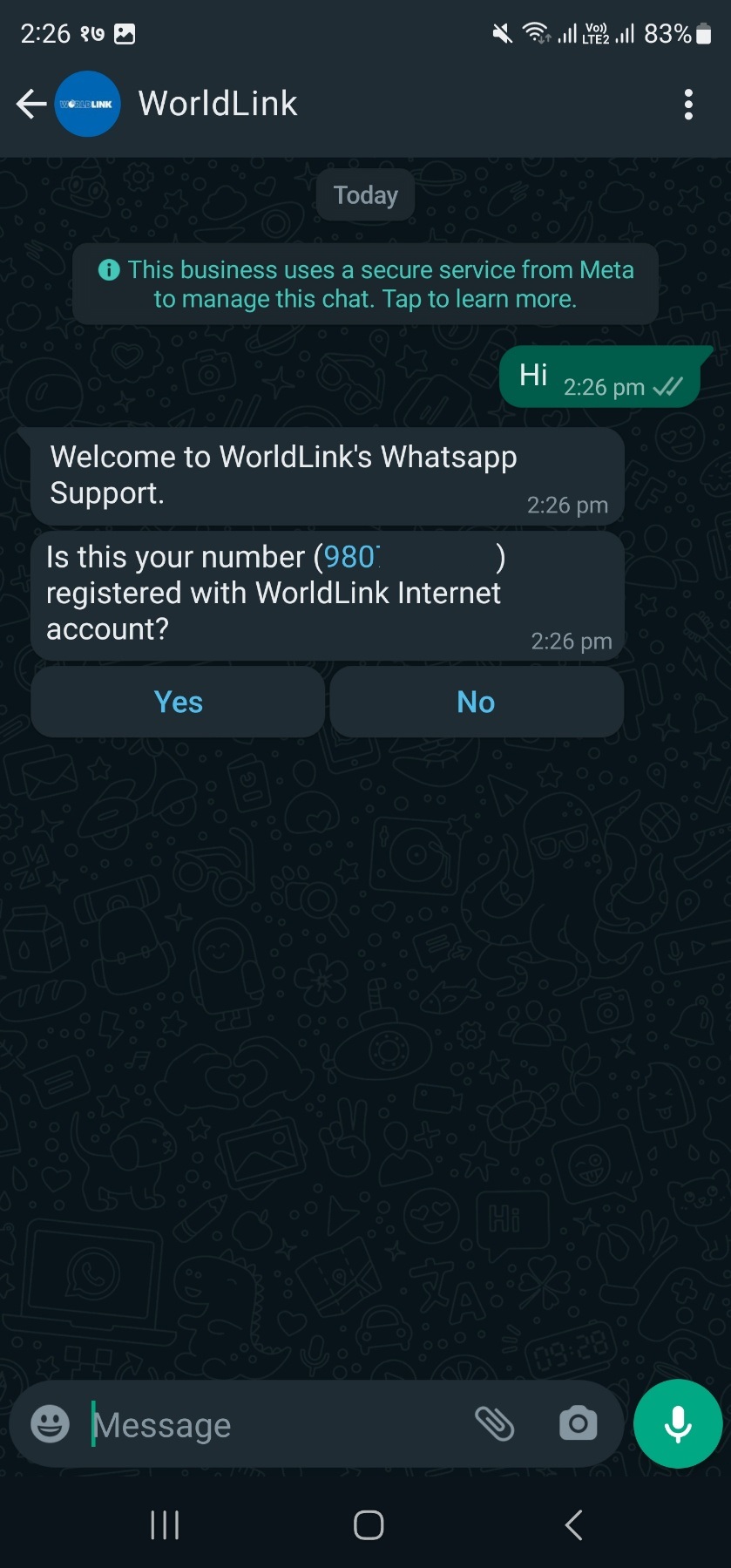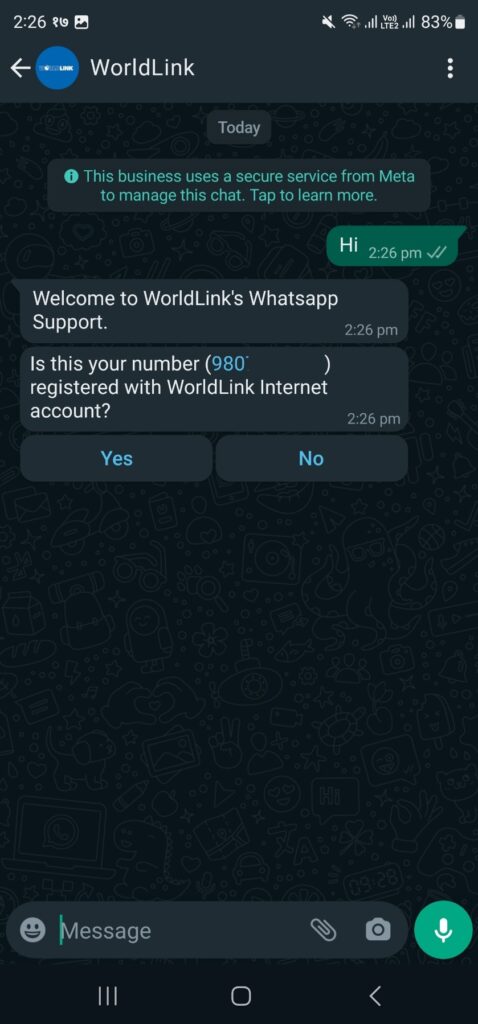 In this process, our system will ask the initiator for verification of the number. If the provided number is registered on our system, the customer needs to select yes or no.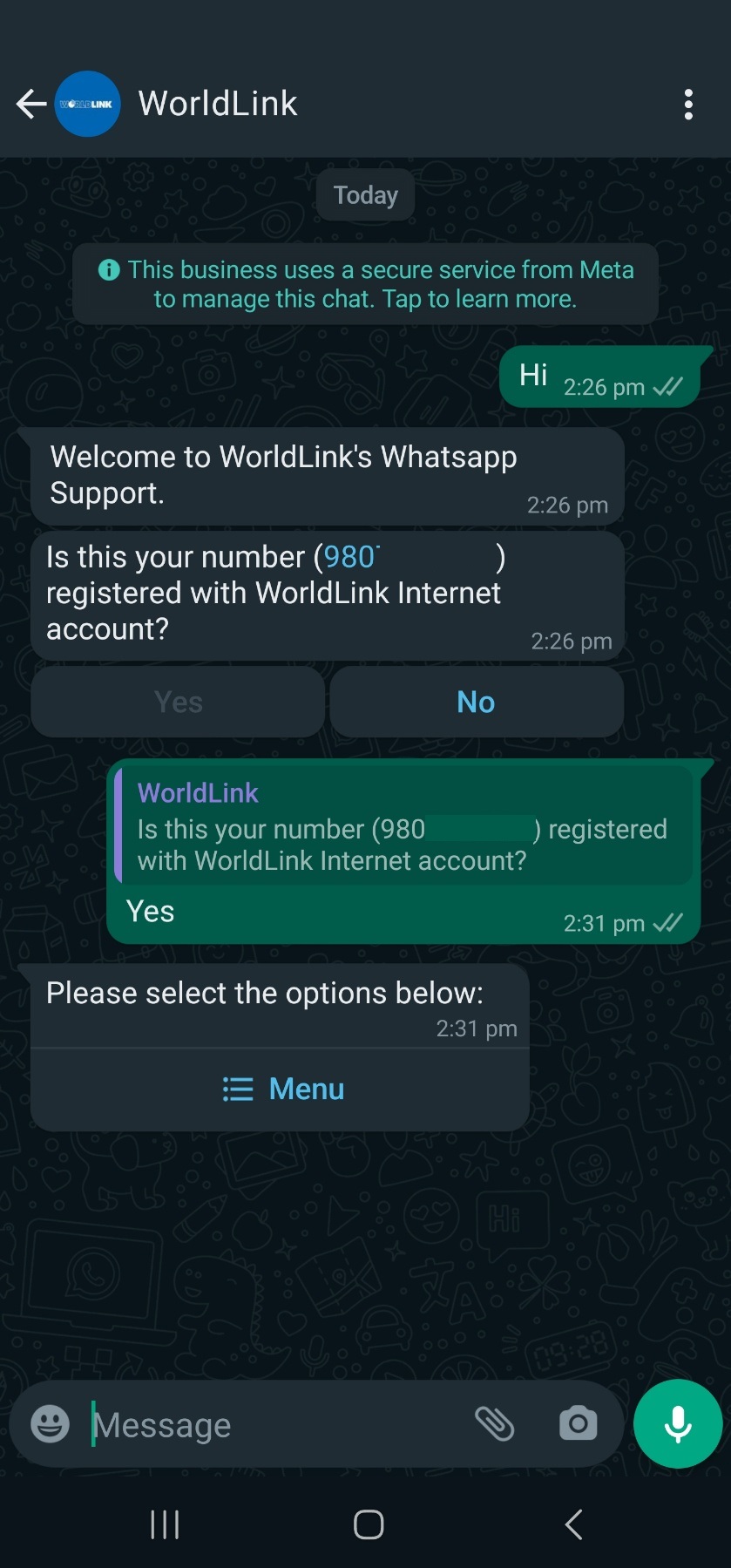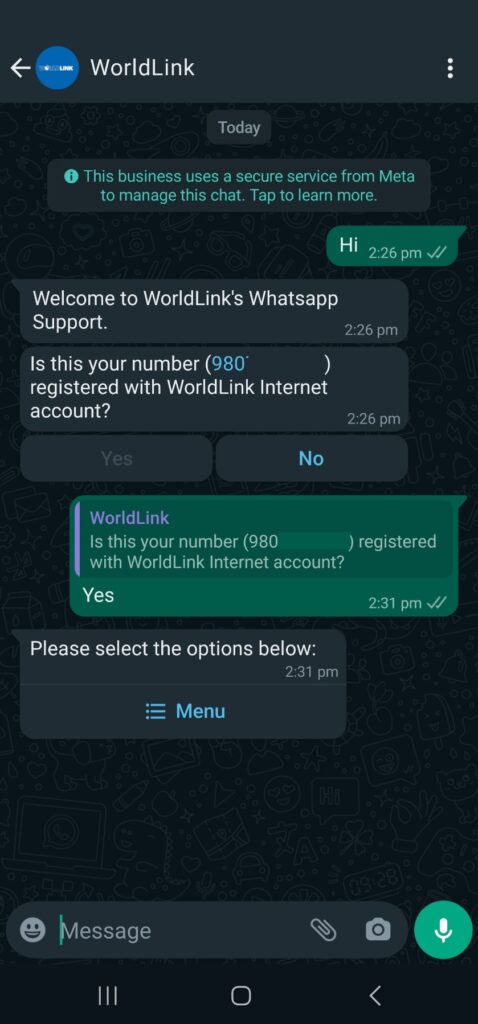 After the customer verifies their number, the customer will be given a list of options from where they can select their related issues or queries.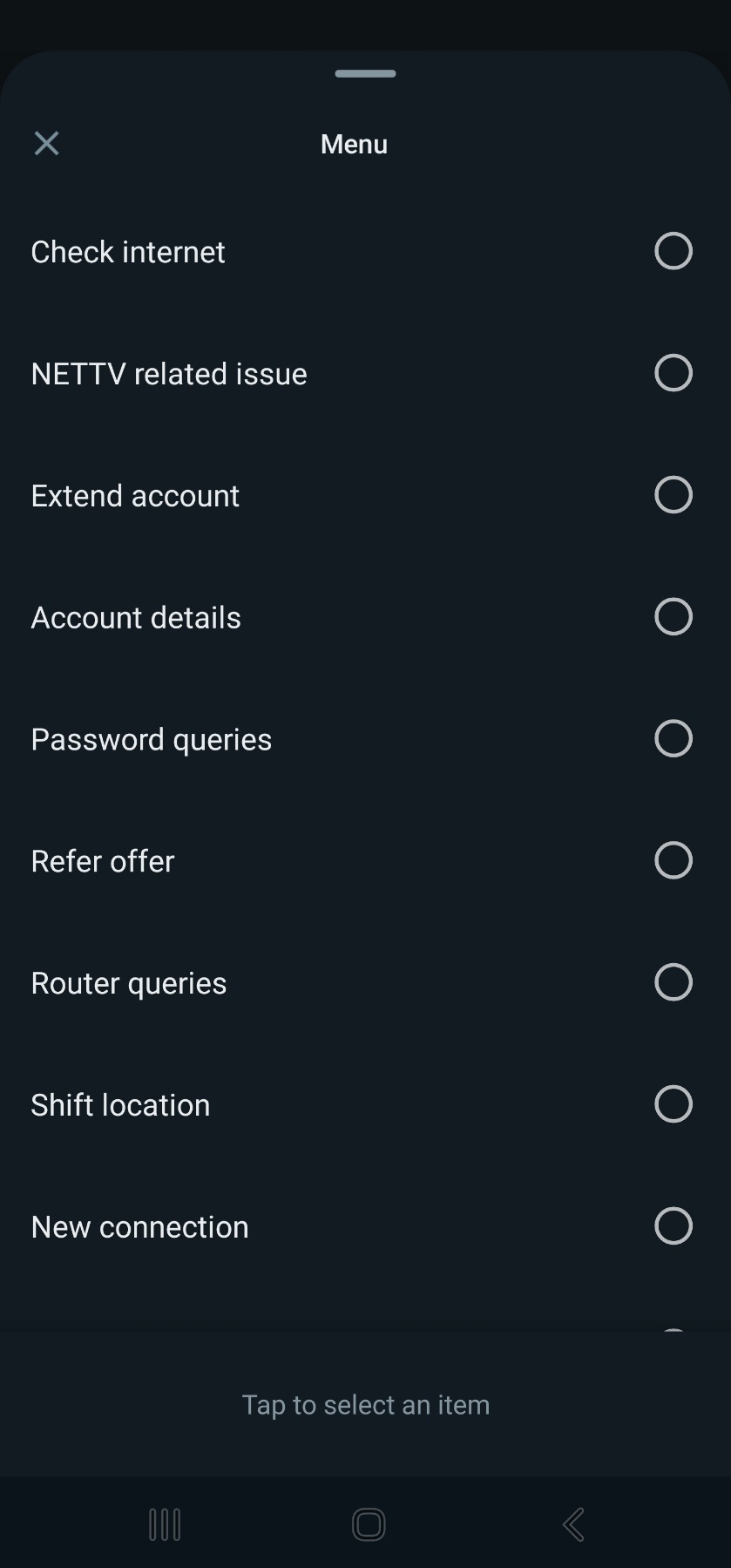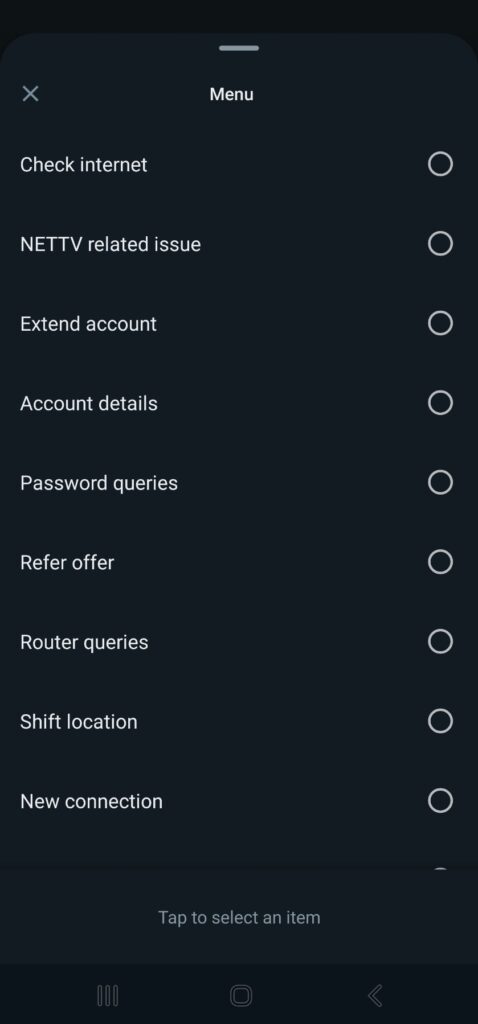 As you see, several queries can be resolved by the WorldLink ChatBot. You can select any of these options as per your requirements.
After you've selected your query, the ChatBot will check through your account and share information. Here, we've selected "Extend Account" as an example. If your account has enough days left and doesn't need to be extended, ChatBot will notify you about it as shown below.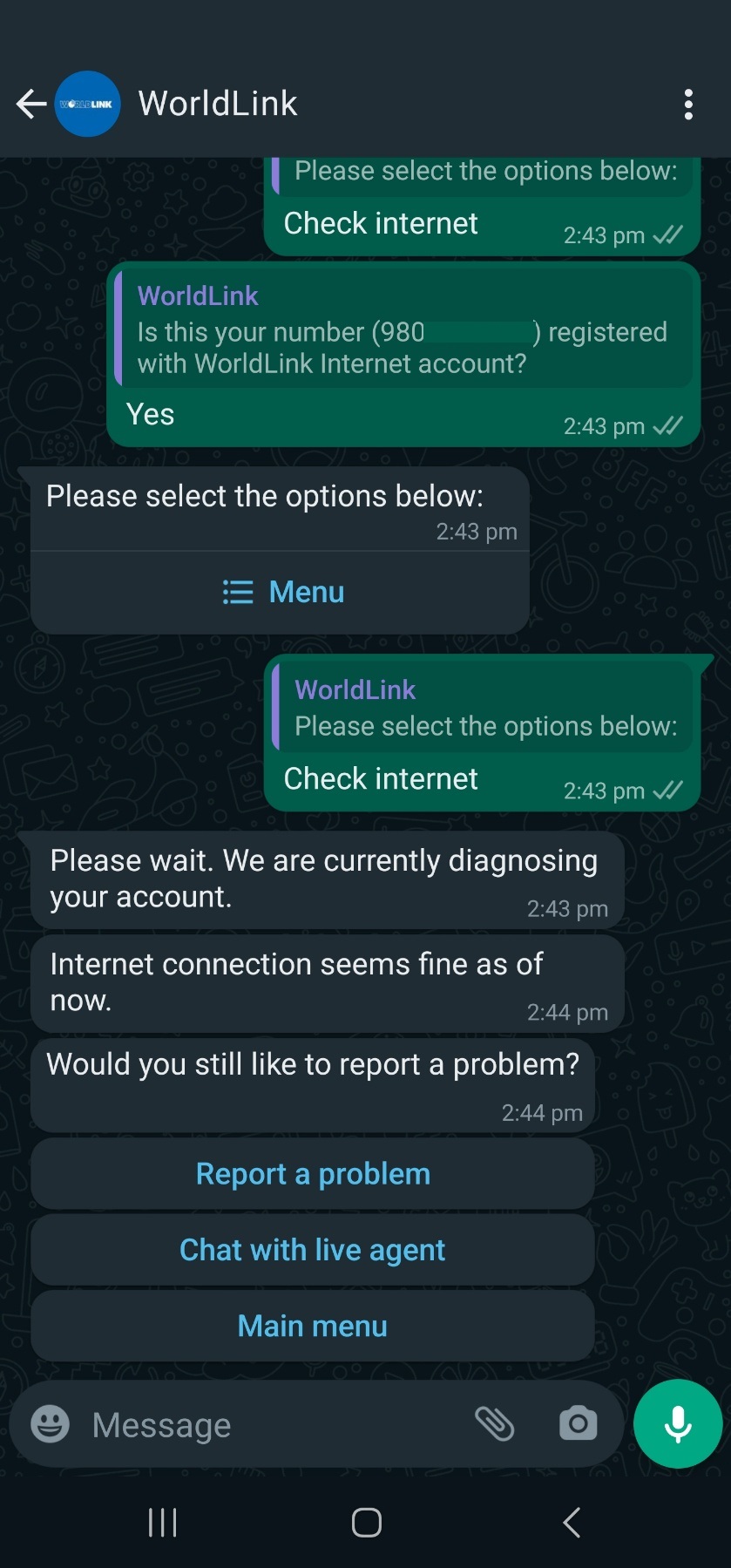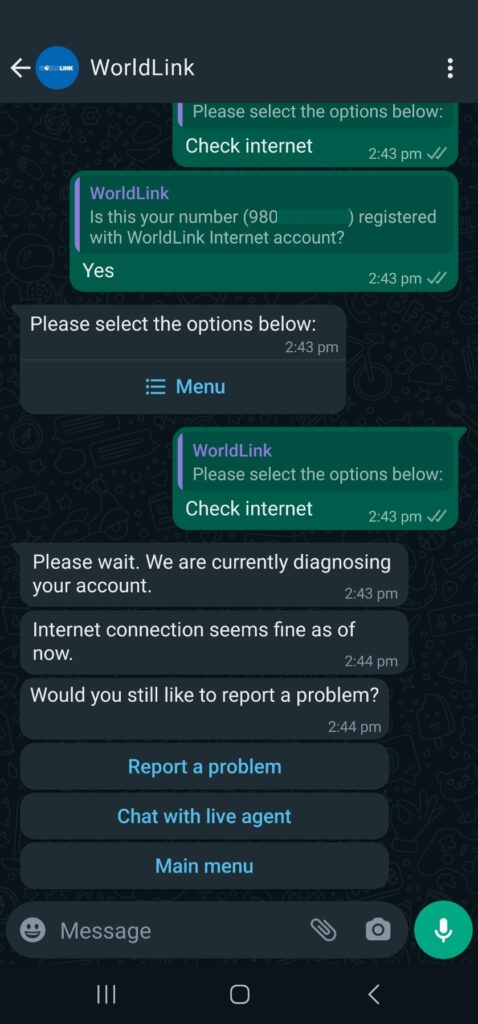 In this scenario, no issues have been identified. If there were any concerns related to a customer's internet connection, ChatBot would initiate a diagnostic process and, if necessary, assign a ticket to the relevant department to address and resolve the issue promptly.
FAQs about WorldLink Chatbot
Is my personal information safe with the chatbot?
Yes, WorldLink takes data security seriously. The chatbot is designed to handle inquiries without storing sensitive personal information.
Can I speak to a human agent if needed?
Absolutely. If the chatbot can't resolve your issue, it will seamlessly transfer you to a human agent as the customer needs to select Chat with Agent who can assist you further process.
Is the chatbot available in the Nepali language?
At this time, the ChatBot does not support the Nepali language. Customers are encouraged to use English when engaging in chat conversations with the ChatBot.
Buy a New Package directly from the WorldLink Website with a Rs.1000 discount: Click here