Internet in Nepal: The Best ISP for Reliable Connectivity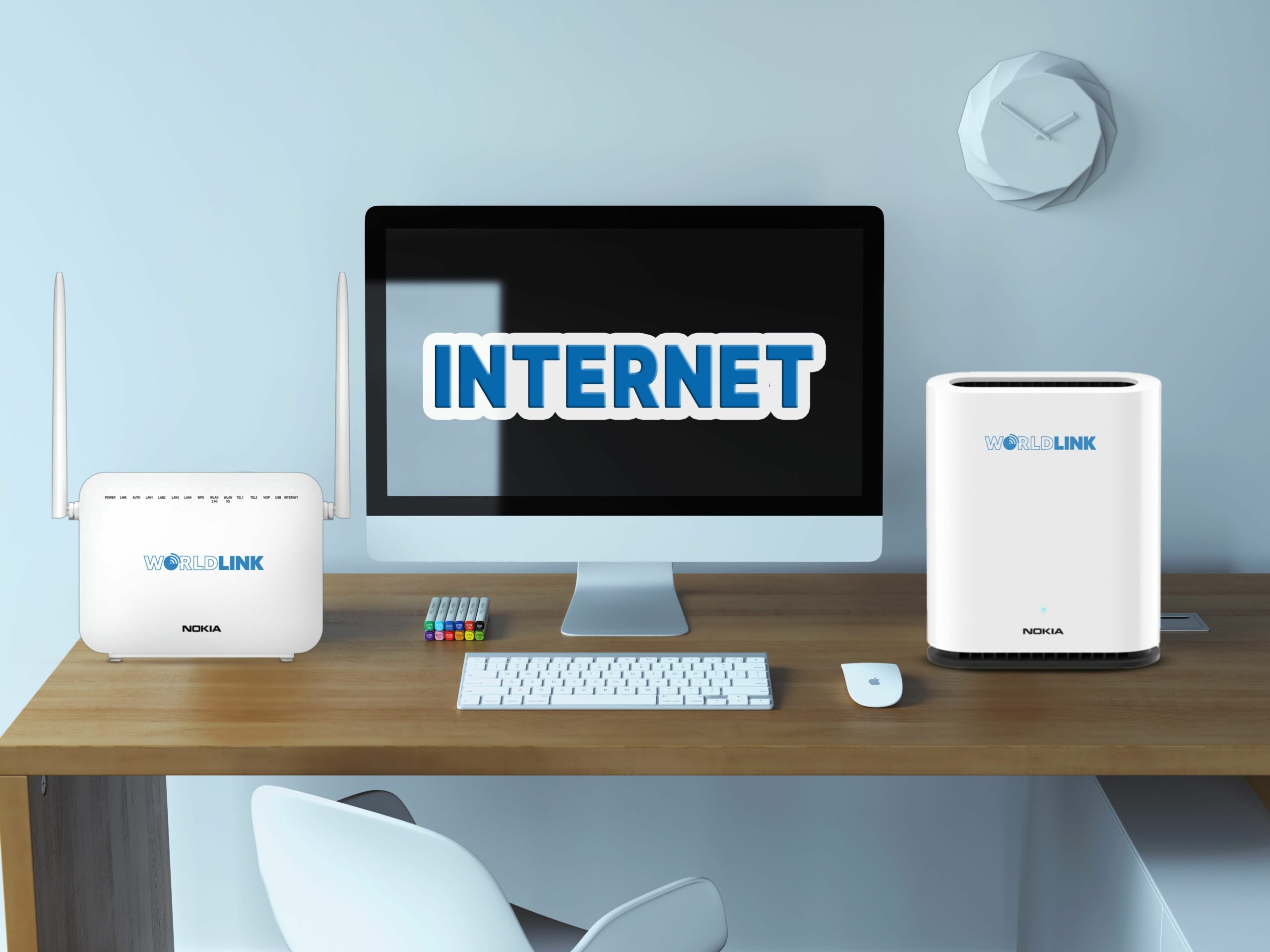 A strong internet connection has become a necessity in our lives in today's digital age. WorldLink has established itself as the largest and the best internet service provider (ISP) in Nepal, providing internet in Nepal with an extensive range of services and outstanding support for customers.
In this article, we will examine the factors that make WorldLink the top option for internet access in Nepal, highlighting its value-added services, quick support, wide coverage, and attractive packages.
The internet serves as a bridge, connecting students to educational possibilities and giving them the confidence to follow their goals in a country like Nepal where access to high-quality education is frequently restricted in rural areas.
The availability of the Internet encourages business development and economic progress in Nepal. People and businesses may access international markets, increase their reach, and participate in e-commerce with the help of a dependable internet connection.
WorldLink started deploying its fibre internet service (FTTH) in Jumla, a distant area in Nepal's Karnali region, on March 15, 2023. This was a crucial turning point since it allowed people in these previously neglected regions to receive first-rate internet services by bringing high-speed broadband connectivity to them.
It is genuinely historic that fibre-optic internet has been brought to such an isolated and off-the-grid region of Nepal. With great pleasure, WorldLink claims to have been the first Internet service provider (ISP) to bring FTTH to Jumla.
With our most recent project, WorldLink has successfully reached 74 districts in Nepal, painstakingly ensuring that each one of them has dependable internet access. The same great quality and service will be provided to the Karnali area, including Jumla.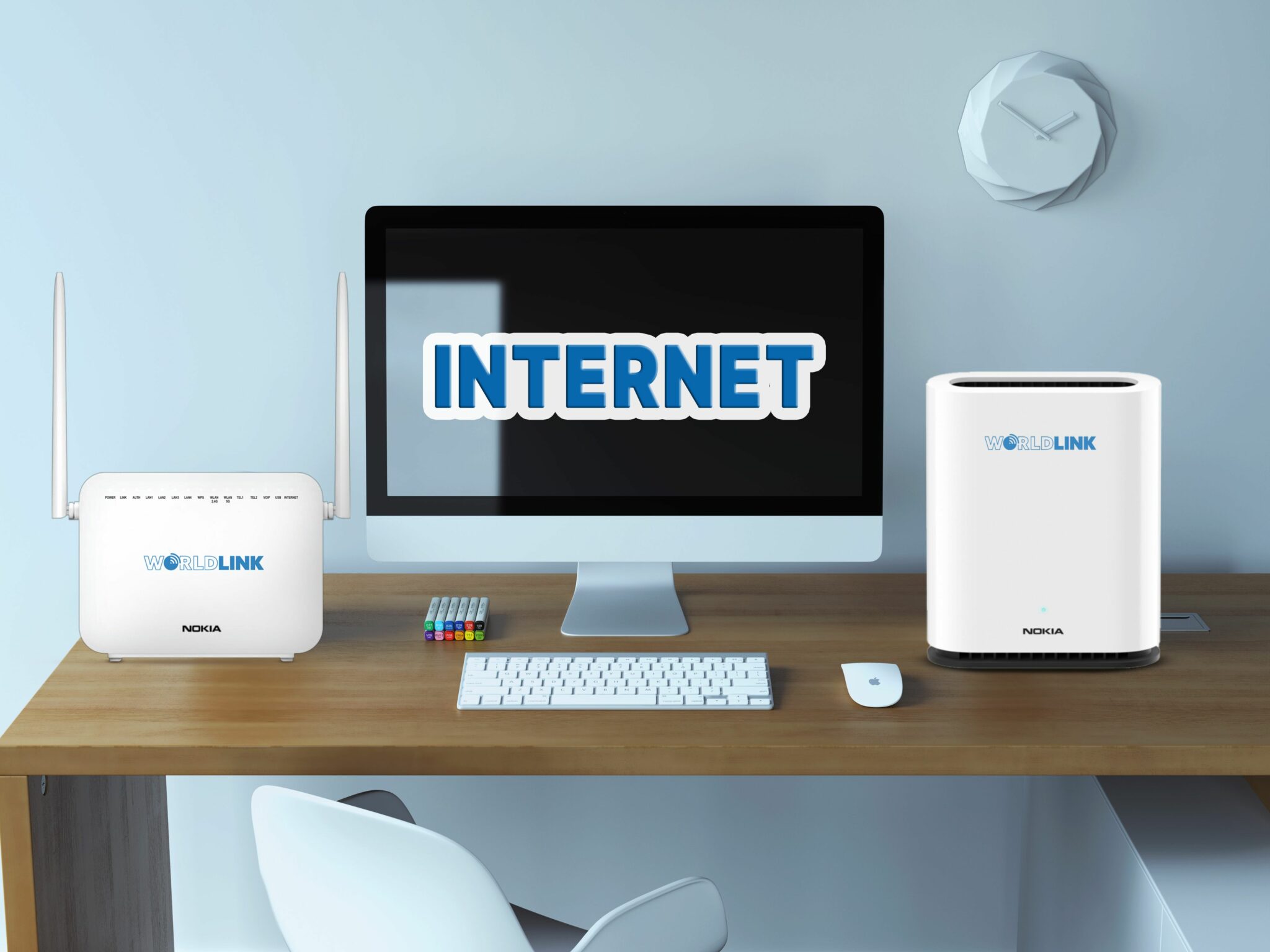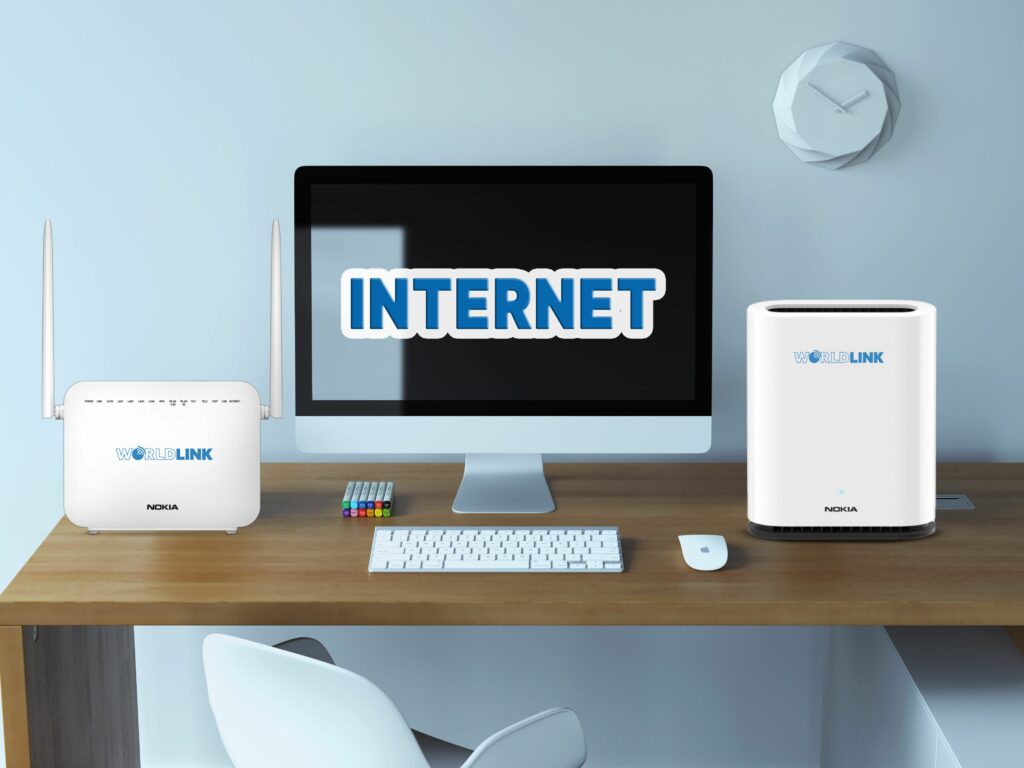 Internet in Nepal: Bandwidth for Faster Speeds, Better Performance
200Mbps :
The 200 Mbps internet packages are part of WorldLink's initial offerings in their residential broadband series. This plan is suitable for households with 3-4 devices that require internet access for activities such as social networking, general web browsing, streaming online videos, occasional online gaming, and seamless phone and video calls. The 200 Mbps plan is particularly beneficial for voice and video interactions
The 200 Mbps speed provided by WorldLink allows users to stay connected with friends, family, and coworkers without interruptions. The voice and video conversations are seamless and offer high-quality audio and video. This plan strikes a balance between price and speed, making it an excellent option for families or smaller residences that require reliable, fast internet access within a budget. With the 200 Mbps plan, customers will have an upload speed of 100 Mbps.
It is important to note that internet speeds can vary due to factors such as network congestion, distance from the server, and the performance of devices and network equipment. The actual download speed experienced by users may be slightly higher or lower than the theoretical bandwidth they have subscribed to.
250Mbps
The 250 Mbps plan offered by WorldLink provides faster internet speeds compared to the 200 Mbps plan. This package is suitable for households with 4-5 devices. With a 250 Mbps connection, users can download and upload data more quickly than with a 200 Mbps connection. This translates to faster file transfers, fluid HD video streaming, quicker loading times for web pages and applications, and improved online gaming performance.
The additional 50 Mbps speed can significantly enhance performance, especially for data-intensive activities that require a lot of bandwidth, such as streaming high-quality videos, online gaming, or transferring large files. However, factors like network congestion, distance from the internet service provider's server, and the speed of the user's computer can also impact the actual performance difference
It is advisable to limit the number of devices connected simultaneously. Unused devices can be disconnected or turned off to free up more bandwidth for gaming. If users frequently encounter bandwidth issues while gaming with multiple connected devices, it is recommended to consider upgrading to a higher internet speed plan. A faster internet connection with greater bandwidth can provide more room for gaming, especially when multiple devices are connected to the internet simultaneously.
300Mbps
The other internet package offered by WorldLink is the 300 Mbps plan, which is 100 Mbps faster than the 200 Mbps plan. A 300 Mbps plan supports higher data transfer speeds, enabling quicker downloads, smoother streaming, and reduced latency for online gaming.
This plan is suitable for households with 6-7 internet users and individuals with creative professions that require a significant amount of internet bandwidth, such as 4K streaming, online gaming, and other resource-intensive online activities. It includes a dual-band router, options for the Nokia Beacon Router, smart installation, and other features shared with the other plan options.
Compared to the 250 Mbps plan, the 300 Mbps plan can provide better gaming performance due to the increased bandwidth available for gaming traffic, even when other devices are downloading or streaming content. This can result in less lag, faster load times, and improved gameplay, especially in online multiplayer games where low latency is crucial.
Multiple devices, including laptops, smart TVs, game consoles, smartphones, and tablets, can be connected simultaneously without significant degradation in performance. With minimal buffering and interruptions, users can stream 4K ultra-high-definition (UHD) video content.
It is important to keep in mind that the actual performance may vary based on factors such as network congestion, distance from the server, device and network equipment performance, and the specific online activities being performed.
Internet in Nepal: WorldLink's Commitment to Provide Customer Satisfaction
WorldLink, the largest provider of internet in Nepal, prioritizes customer satisfaction by offering a dedicated support system known as "Quick Support & Best Service." With a strong commitment to delivering exceptional service, WorldLink ensures that its customers receive prompt assistance and resolution to their queries and technical issues.
Moreover, Understanding the significance of customer satisfaction, WorldLink has introduced a revolutionary Money Back Guarantee for customers facing slow internet speeds. This initiative highlights WorldLink's dedication to providing quality service and ensuring customer satisfaction.
By introducing the Money Back Guarantee, WorldLink aims to instil confidence in its customers. It shows that the company is willing to stand behind the quality of its service and is committed to resolving any issues promptly.
Money Back Guarantee for slow internet connections demonstrates the company's commitment to providing satisfied customers. By providing this assurance, WorldLink positions itself from its rivals and displays its dedication to providing dependable and fast internet access. Since clients are assured of their happiness, this endeavour maintains their trust. WorldLink strengthens its reputation in Nepal as a customer-focused internet service provider with the Money Back Guarantee.
As a WorldLink customer, you not only benefit from reliable and high-speed internet but also gain access to a range of value-added services designed to elevate your online experience. Some of the unique services that WorldLink customers can access:
Wi-Fi Express: Unlimited Free Wi-Fi Access Across Nepal
Wi-Fi Express, offered by WorldLink, brings you unlimited free Wi-Fi access throughout Nepal. With over 14,000 hotspots strategically located across the country, you can enjoy seamless connectivity wherever WorldLink's Wi-Fi hotspots are available. Whether you're a local or a visitor, Wi-Fi Express allows you to stay connected, browse the internet, stream videos, and access your favourite apps without worrying about data limits or additional charges.
With Wi-Fi Express, you can connect to multiple hotspots simultaneously, ensuring uninterrupted internet access as you move around. Whether you're in a coffee shop, mall, hotel, or public area, simply connect to the nearest Wi-Fi Express hotspot and enjoy a fast and reliable internet connection. Say goodbye to data limitations and expensive roaming charges while exploring Nepal.
If you're already a WorldLink customer and haven't connected to a Wi-Fi Express hotspot yet, our blog provides complete information on how to get started. Visit our blog to learn about the benefits of Wi-Fi Express, hotspot locations, and easy steps to connect. Stay connected on the go and make the most of your WorldLink internet service.
Download the myWorldLink App for Enhanced Control
Take control of your WorldLink account with the myWorldLink app. Available for both Android and iOS devices, the app offers a convenient way to manage your subscription, monitor data usage, pay bills, and stay updated with the latest offers and promotions. WorldLink customers can check their remaining days, make online payments, report internet issues, sync multiple accounts, change Wi-Fi passwords, and access various tutorials for a better understanding of the process. Download the myWorldLink app now to manage your WorldLink internet experience on the go.
Introducing TimeBack: Compensation for Internet Disruptions
At WorldLink, we understand the importance of uninterrupted internet service. However, occasional internet outages or scheduled maintenance may cause temporary disruptions. That's why we introduce TimeBack, a unique service designed to compensate for any inconvenience caused during such situations.
If you experience an internet outage or face delays in resolving your issues within 24 hours, our dedicated customer support team is here to assist you. We aim to promptly address any concerns, and if your issues aren't resolved within the specified timeframe, we will compensate you for the inconvenience faced. Contact our customer support team to report any internet disruptions, and we will assess the situation and determine fair compensation based on the duration of the disruption. Your satisfaction is our priority.
Unlock Exclusive discount with myWorldLink Benefits
As a WorldLink customer, you gain access to a world of exclusive benefits through our myWorldLink Benefits program. Enjoy special offers, discounts, and promotions from our partner merchants across various sectors, including dining, shopping, travel, and entertainment. With an active internet account status and the myWorldLink App, you can take full advantage of these incredible benefits and enjoy savings on a wide range of products and services.
To find out the available discounts and participating outlets, simply click here and search for your desired establishments. With myWorldLink Benefits, you can enjoy discounts of up to 50% at select partner establishments. Start exploring the savings today and make the most of your WorldLink internet connection.
Internet in Nepal: Customers can buy internet directly from the Website
WorldLink has also introduced its Go Direct initiative, allowing customers to easily purchase internet packages through the website. WorldLink is the first ISP in Nepal that has offered this service where customers can buy internet packages directly from the official website making it easier for customers to choose the right internet package and get the internet connection at their end without any hassle. With the option to buy internet plans directly from the Worldlink website, users can enjoy a hassle-free experience and get connected quickly.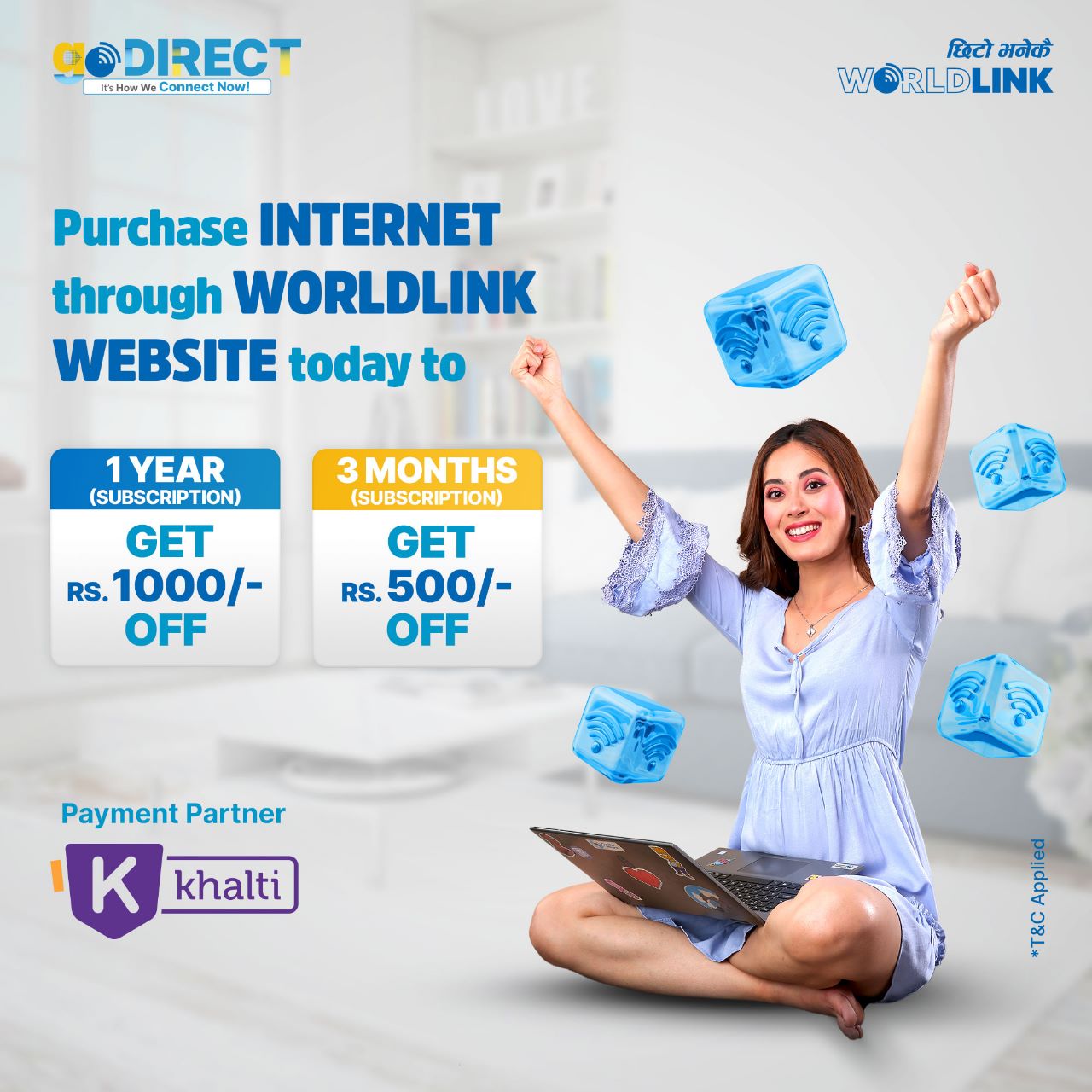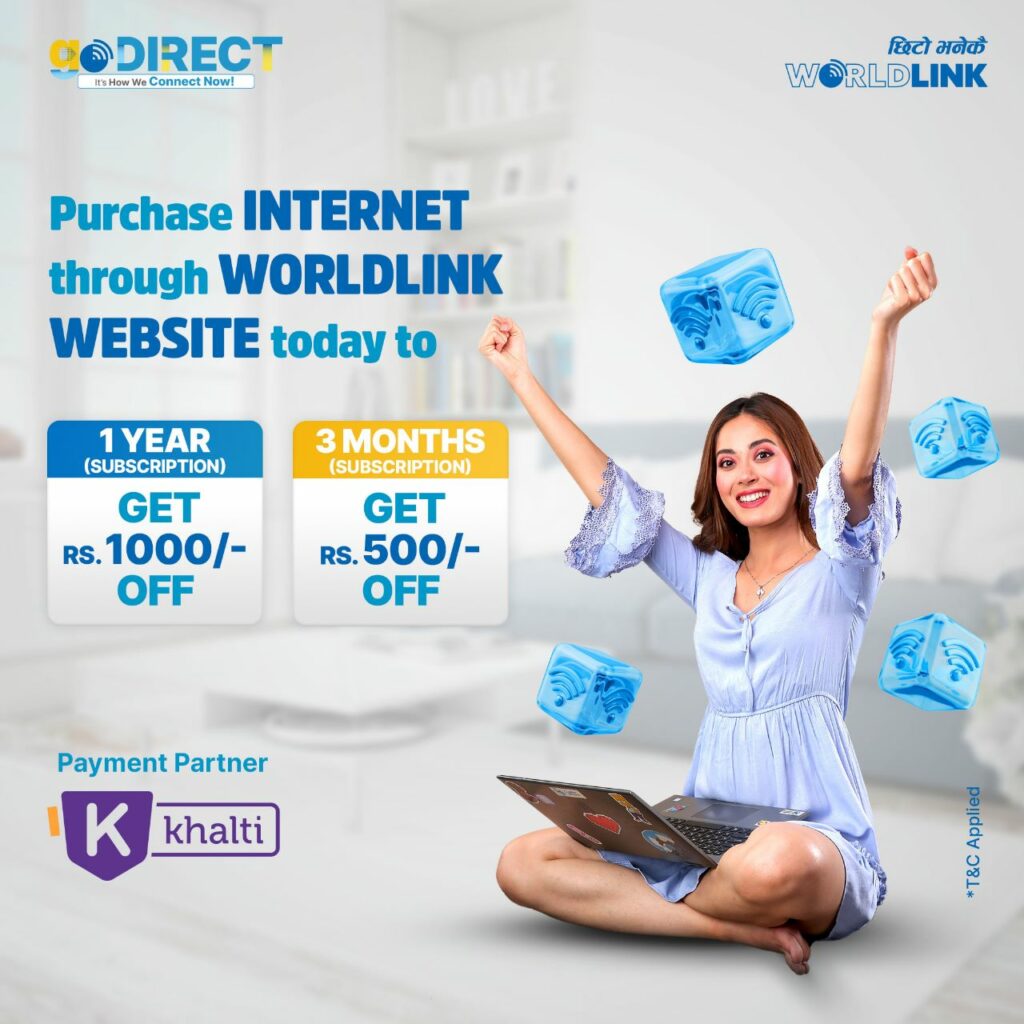 Apart from being the first ISP in Nepal to make the process of purchasing internet packages simple and easy, we are also offering various prizes for our fabulous customers.
Customers that select the Khalti payment option while purchasing internet packages directly from WorldLink Internet will earn payback ranging from Rs. 500 to Rs. 1000. Khalti had previously provided Rs. 1000 for yearly customers, but they now provide Rs. 500 to new customers who subscribe in for 3 months, and Rs. 1000 to customers subscribe in for 1 year.
This offer is not applicable to customers who request installation for new connections via other sources/offline and subsequently pay for their internet packages from the website. The offer is only valid for customers who purchase internet packages directly from the website.
Moreover, the installation from Go Direct will proceed within 24 hours of the package being purchased, although there are certain exceptions, such as inclement weather, expansion, client-side issues, etc. During such conditions, WorldLink does not promise 24-hour installation. Due to the fact that WorldLink only offers these to new customers, the offer may change or be valid just for a limited time. It means that WorldLink reserves the right to cancel or modify the offer without prior notification.
Below are the terms and conditions that apply to new customers with Residential Broadband Internet Plans that are part of WorldLink Go Direct Campaigns.
Only customers who purchase internet packages directly from the WorldLink website are eligible for the Go Direct Campaign offer.
Go Direct Campaign offer is valid from the start date of the promotion until further notice.
Customers who purchase internet packages directly from the WorldLink website will receive a guaranteed Khalti Cashback if the customers pay via Khalti only.
Customers can only receive up to Rs.500 to Rs.1000 Khalti Cashback per transaction depending upon the purchase package.
WorldLink reserves the right to cancel or modify this offer without prior notice.
This offer is not applicable to customers who request installation for new connections via other sources/offline and subsequently pay for their internet packages from the website. The offer is only valid for customers who purchase internet packages directly from the website.
Any other offers like Refer offers, and Branch Offers will not be valid via Go Direct.
All sales made through the WorldLink website for internet packages are final and non-refundable. Once a customer has purchased an internet package, no refunds will be issued. It is the responsibility of the customer to ensure that they have selected the appropriate internet package for their needs before completing the purchase.
The installation from Go Direct will proceed within 24 hours of the package being purchased, although there are certain exceptions, such as inclement weather, expansion, client-side issues, etc. During such conditions, WorldLink does not promise 24-hour installation.
A refundable deposit will be returned only upon returning the router in working condition.
Fair Usage Policy is applicable in Unlimited Plans.
Mentioned plans are exclusively for residential purposes only and shall not be resold or used for business purposes.
Mentioned rates exclude VAT. Refundable deposits are included.
Existing customers are not eligible to buy for this package.
New Customers subscribed to the 200 Mbps, 250 Mbps, and 300 Mbps packages are eligible for the Speed and Service Guarantee: नत्र Paisa Firta facilities.