Wi-Fi Express: Free WorldLink Wi-Fi
With the introduction of Wi-Fi Express: Free WorldLink Wi-Fi among the Nepali audience, that dream can now finally come to fruition as more than 14000+ Wi-Fi hotspots have been built all over Nepal that provide free Wi-Fi hotspots to its users. With this, people can easily connect to multiple hotspots simultaneously & enjoy unlimited free Wi-Fi all over Nepal where WorldLink's Wi-Fi hotspots are available.WorldLink is Nepal's largest Internet and network service provider and one of the country's most famous IT businesses that share a dream of connecting everyone, anywhere, all the time, with the best internet possible
Currently, WorldLink has free Wi-Fi hotspots across various public places in Nepal. These places include restaurants, banks, hospitals, temples, parks, airports, malls, and other public places. By providing free Wi-Fi access in these locations, WorldLink is making it easier for people to access the internet while on the go. This is particularly beneficial for people who may not have access to the internet at home or who need to stay connected to the internet while traveling.
Can WorldLink's Free Wi-Fi be used by anyone?
Definitely, anyone can use Wi-Fi Express, including people who are not WorldLink customers.
Nevertheless, there is some difference in the registration process for WorldLink users and non-WorldLink users.

After completing a one-time registration process, WorldLink clients can connect to the free Wi-Fi hotspots using the Wi-Fi SSID "myWorldLink."Once registered, they can connect to the hotspots automatically without needing to repeat the registration process.

Customers of WorldLink will find it simpler to maintain an internet connection both inside and outside of their houses thanks to this seamless connectivity.
On the other side, non-WorldLink users can use the Wi-Fi SSID "Free_WorldLink_Wi-Fi" to connect to the free Wi-Fi hotspots.
They must, however, register with their phone number separately at each hotspot.
How has WorldLink's Wi-Fi Express benefited communities?
In today's digital age, access to the internet has become more than just a convenience – it is a necessity. However, there are still many areas around the world that lack reliable internet connectivity. That's where WorldLink's Wi-Fi Express comes in. This innovative solution has managed to reach even the most remote and far-off places where network services are barely available.
WorldLink's Wi-Fi Express recognizes that this presents a unique opportunity to connect communities and establish micro-business environments. By closing the digital divide between the connected and the unconnected, WorldLink's Wi-Fi Express is creating many new business possibilities to optimize income and improve communities. With the power of the internet at their fingertips, individuals can start businesses, access new markets, and connect with customers from all around the world. This, in turn, can help to drive economic growth and create a better future for everyone.
At WorldLink, we believe that everyone should have access to the transformative power of the internet. That's why we're committed to expanding our reach and providing free Wi-Fi services to even more communities in need. With WorldLink's Wi-Fi Express, the possibilities are endless, and the future is bright.
How do I log into Free WorldLink Wi-Fi?
For WorldLink Customer: Register Login process SSID "myWorldLink"
Android
1. Go to Wi-Fi Settings and Select the SSID name "myWorldLink"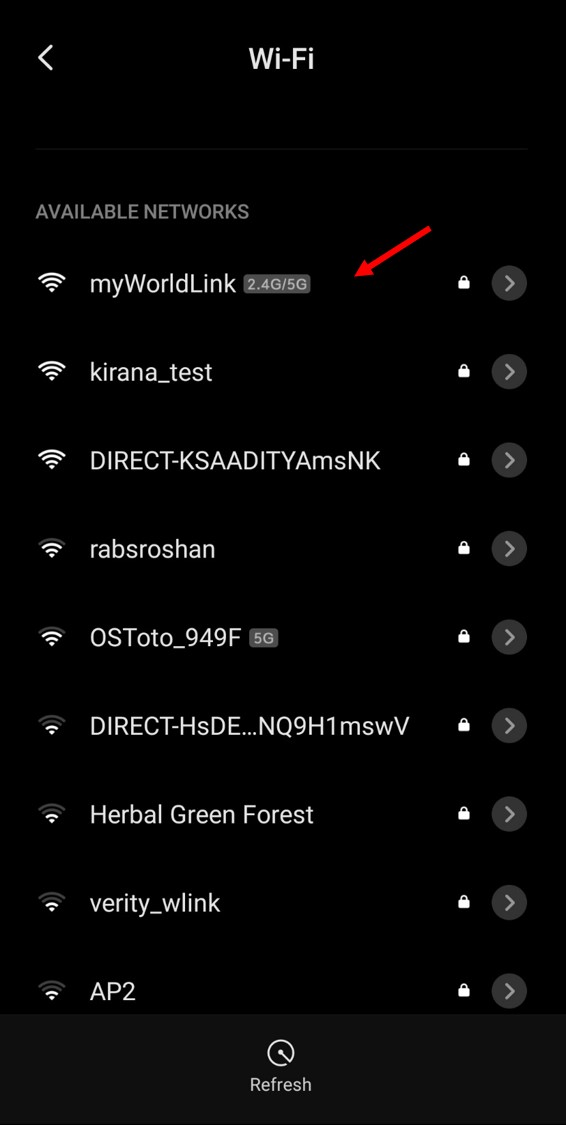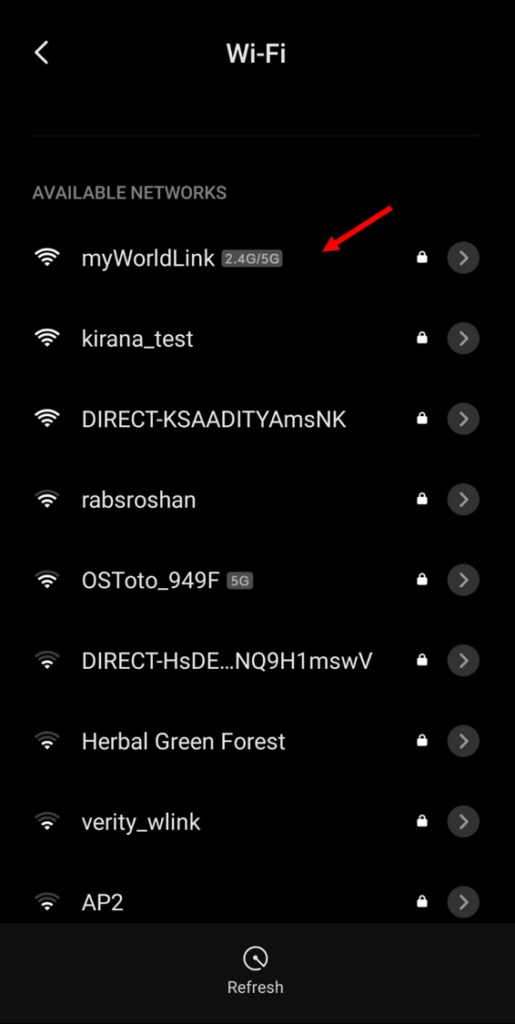 2. Click on "myWorldLink" SSID from the list.
In some android devices, you may not see the Advance option, in such a case go to step 4.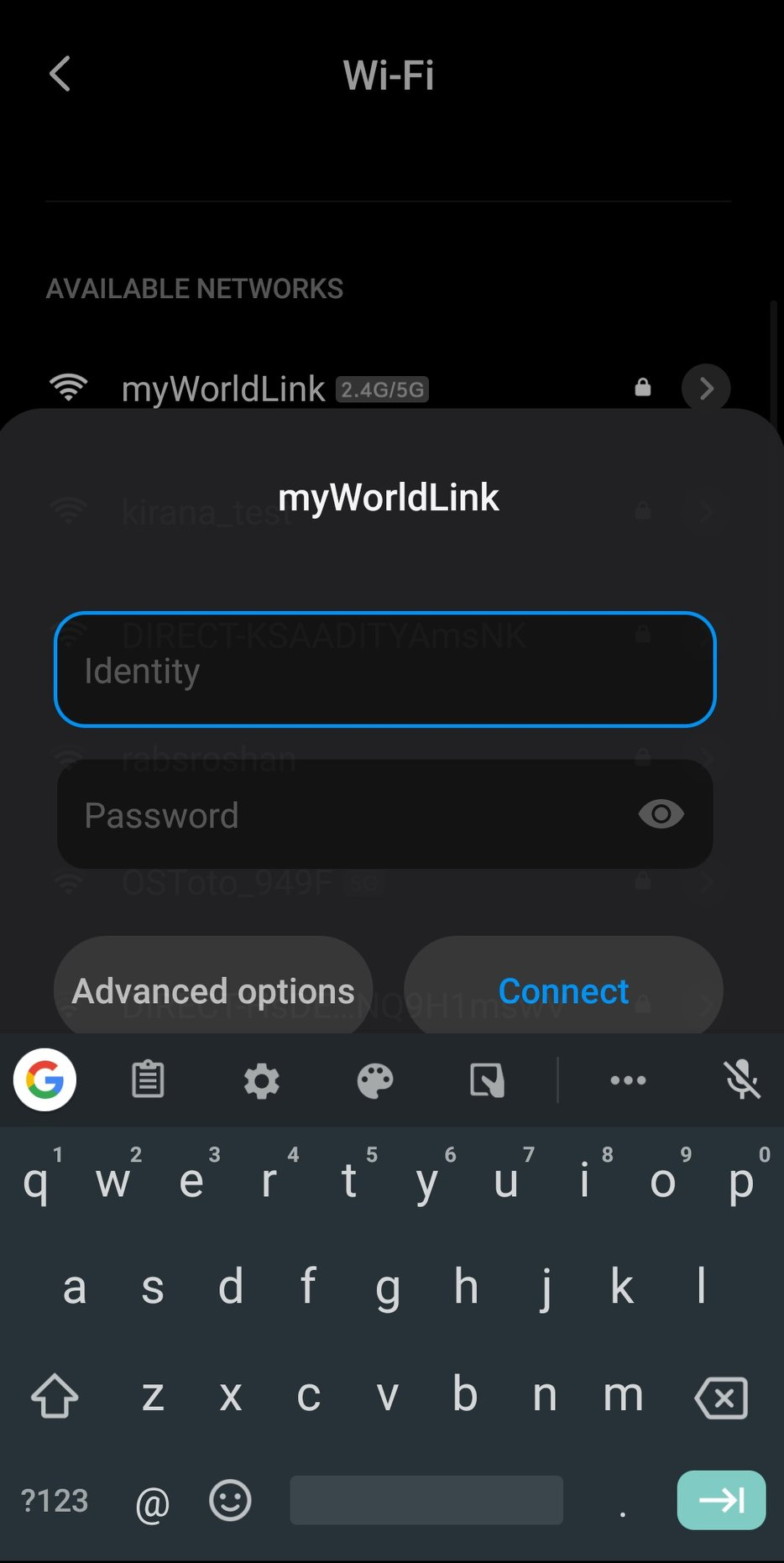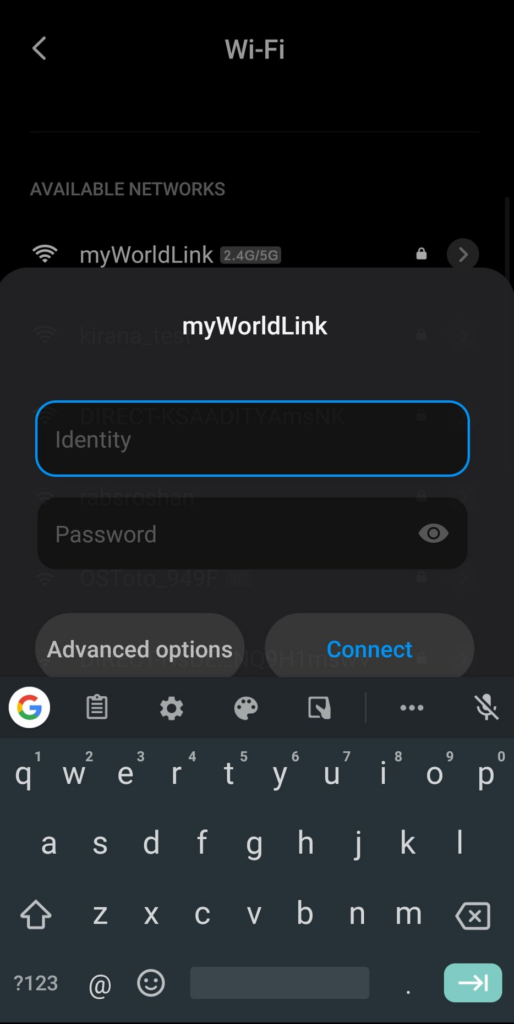 3. Now Click on "Advance Options"
4. Select "PEAP" in the EAP method
5. Select "MSCHAPV2" in Phase 2 authentication
6. Select "Do not validate" or "Unspecified" in the CA certificate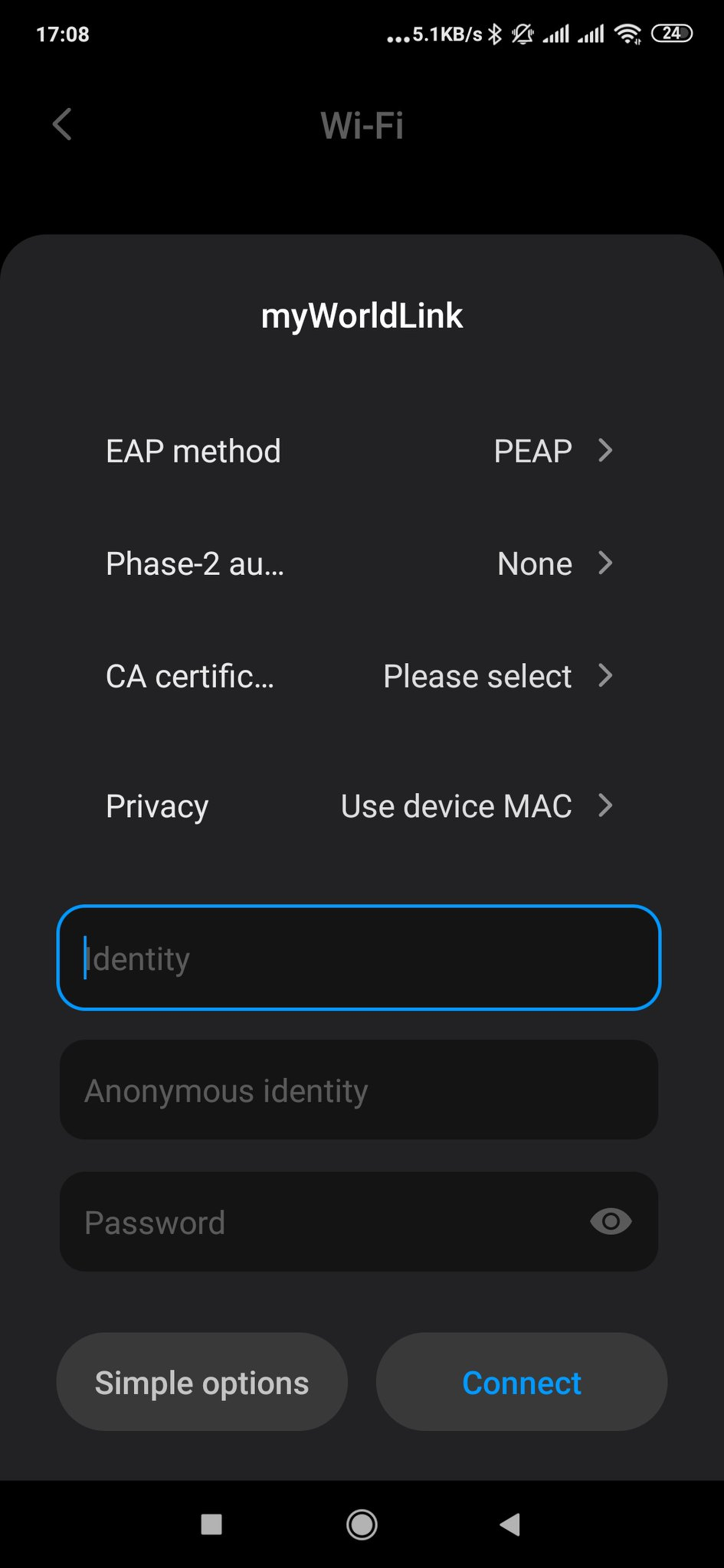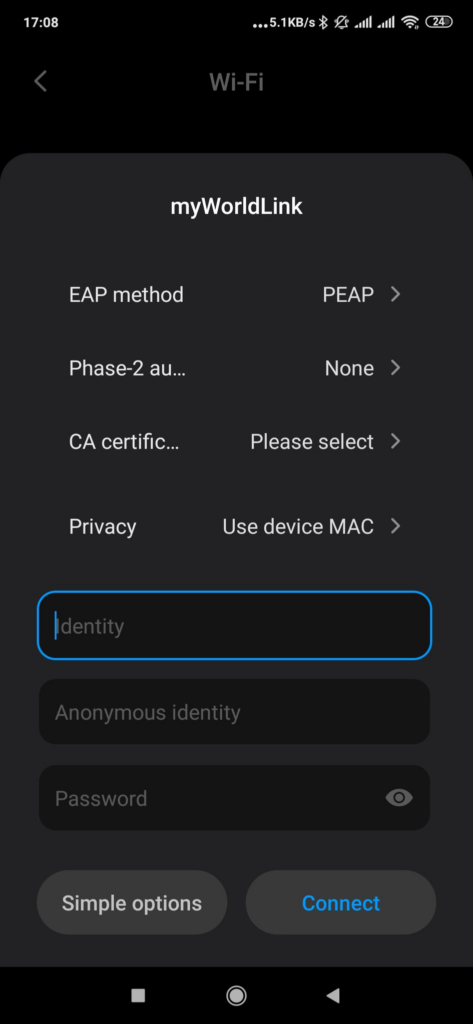 7. Type your WorldLink account Username in Identity
In some android devices, you may see Username and Password instead of Identity.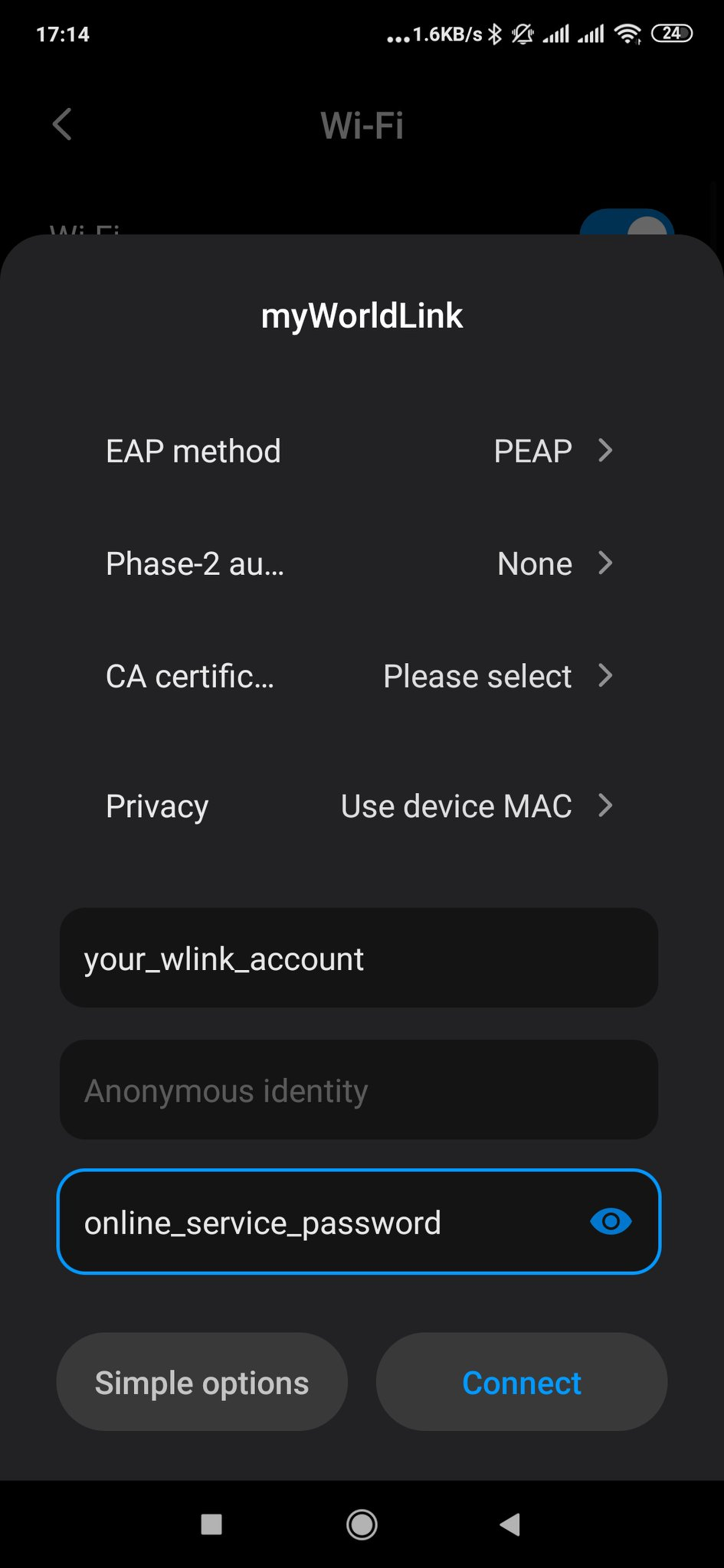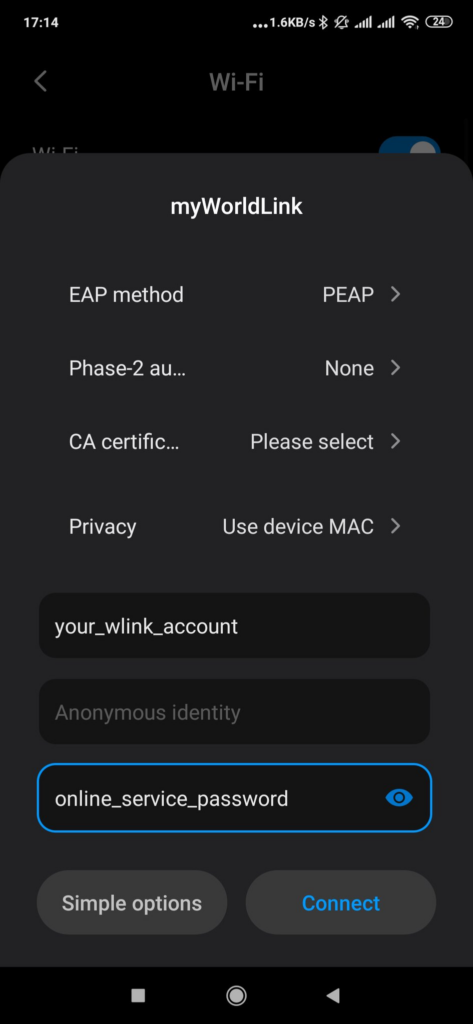 8. Ignore other fields
9. In the Password section, enter your WorldLink Online Service password.
Take note that the password for the online service is different from the one for your home Wi-Fi.
Customers of WorldLink use his\her online service password to access both the website's customer portal and the NETTV app.
10. Click "CONNECT"
For iPhone/Windows/PC
1. Go to Settings and Select Wi-Fi
2. Select "myWorldLink" SSID from the list
3. Type your WorldLink account "Username & Password"
4. Click "CONNECT"
For Non-WorldLink Customer: Register Login process SSID "Free_WorldLink_Wi-Fi"
1. Click on SSID "Free_WorldLink_Wi-Fi"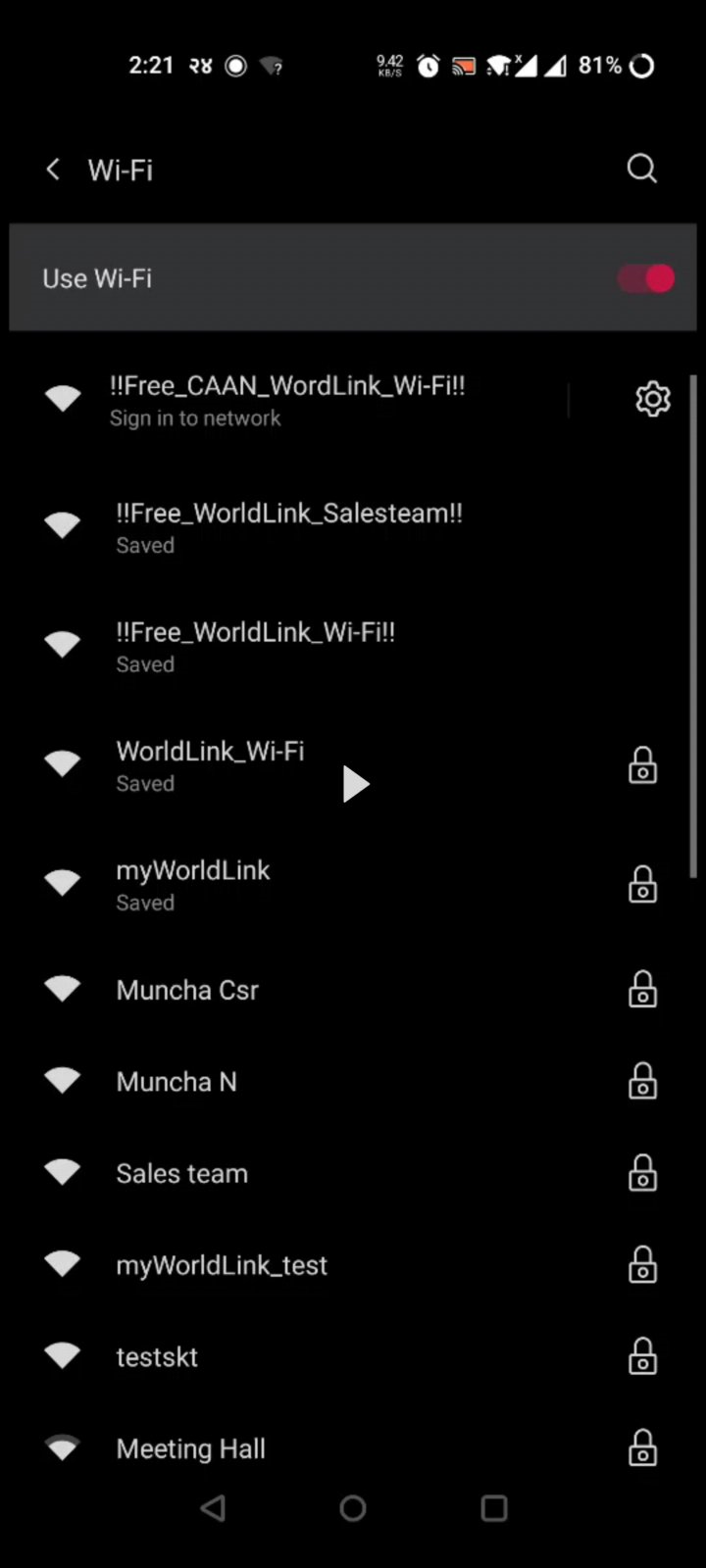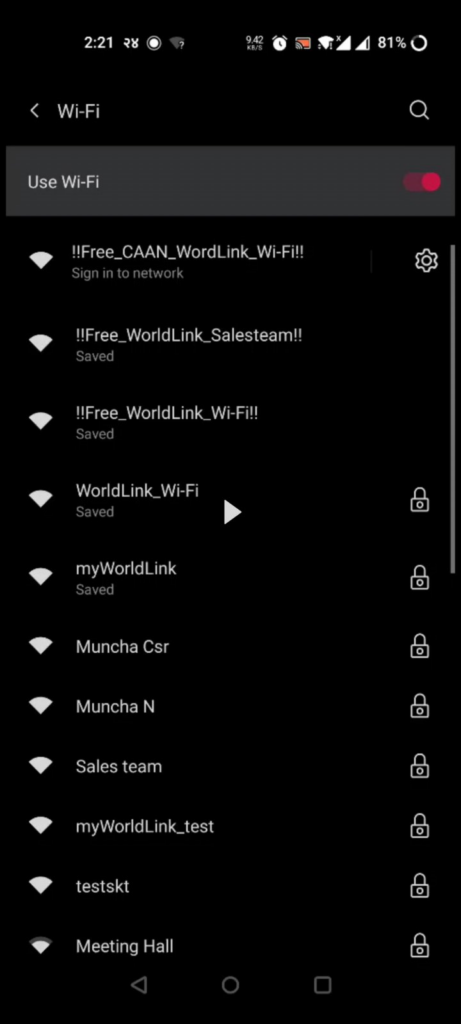 2. Click on "Get Online"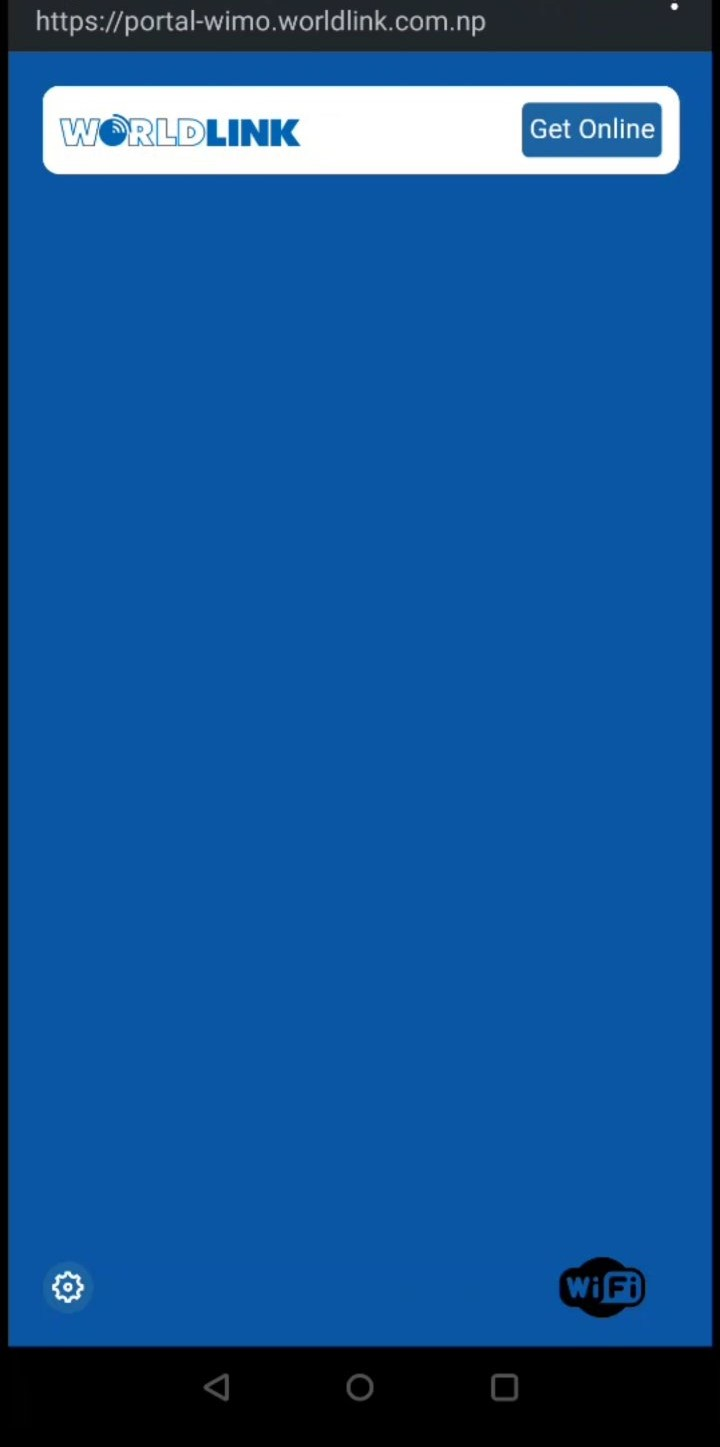 3. Click on "Connect on Free Wi-Fi"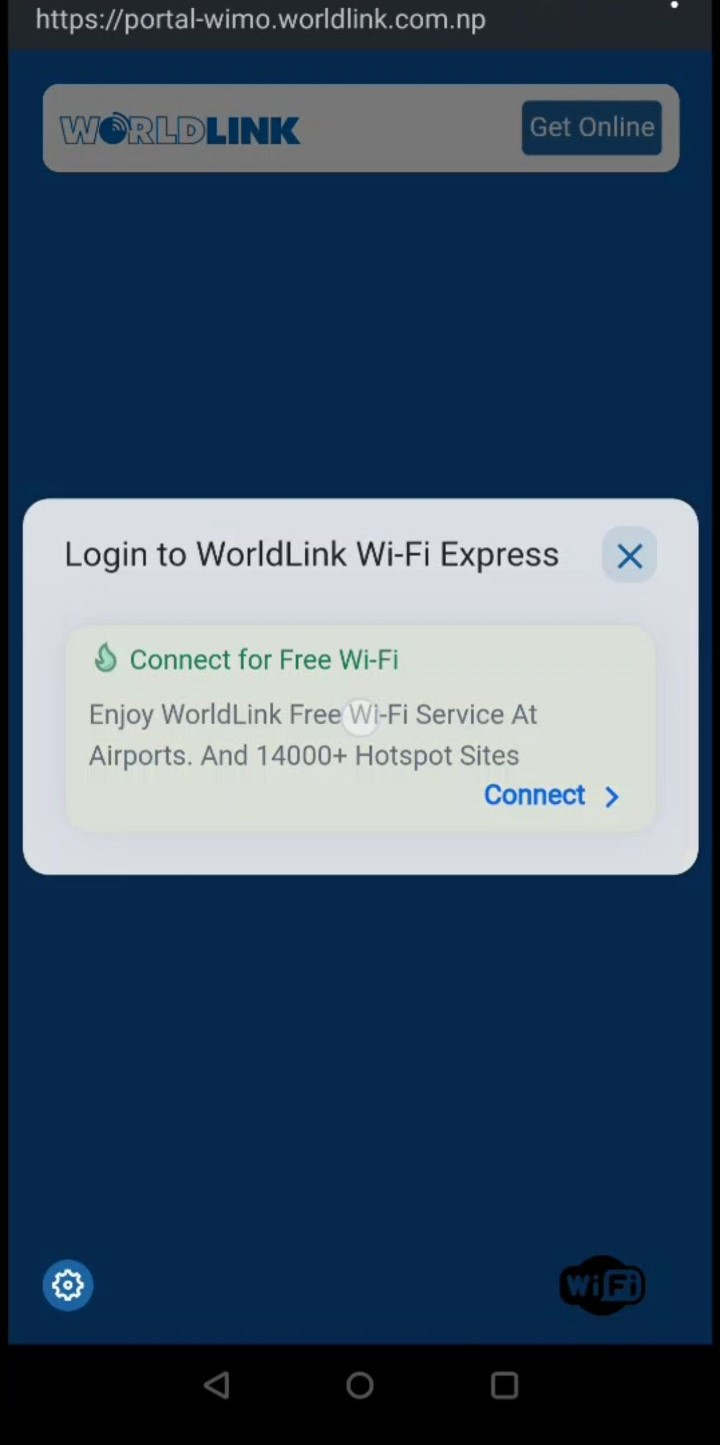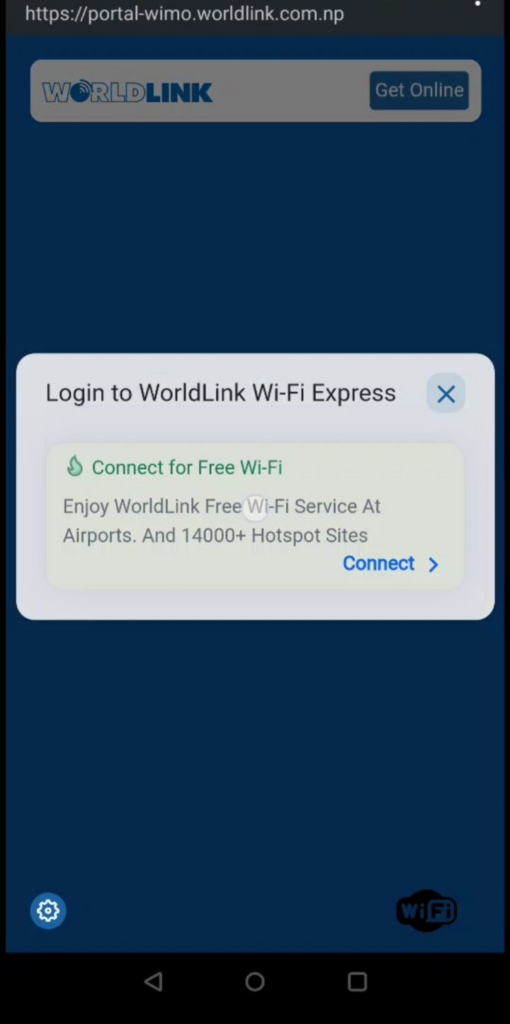 4. Click on "Are you a new user"?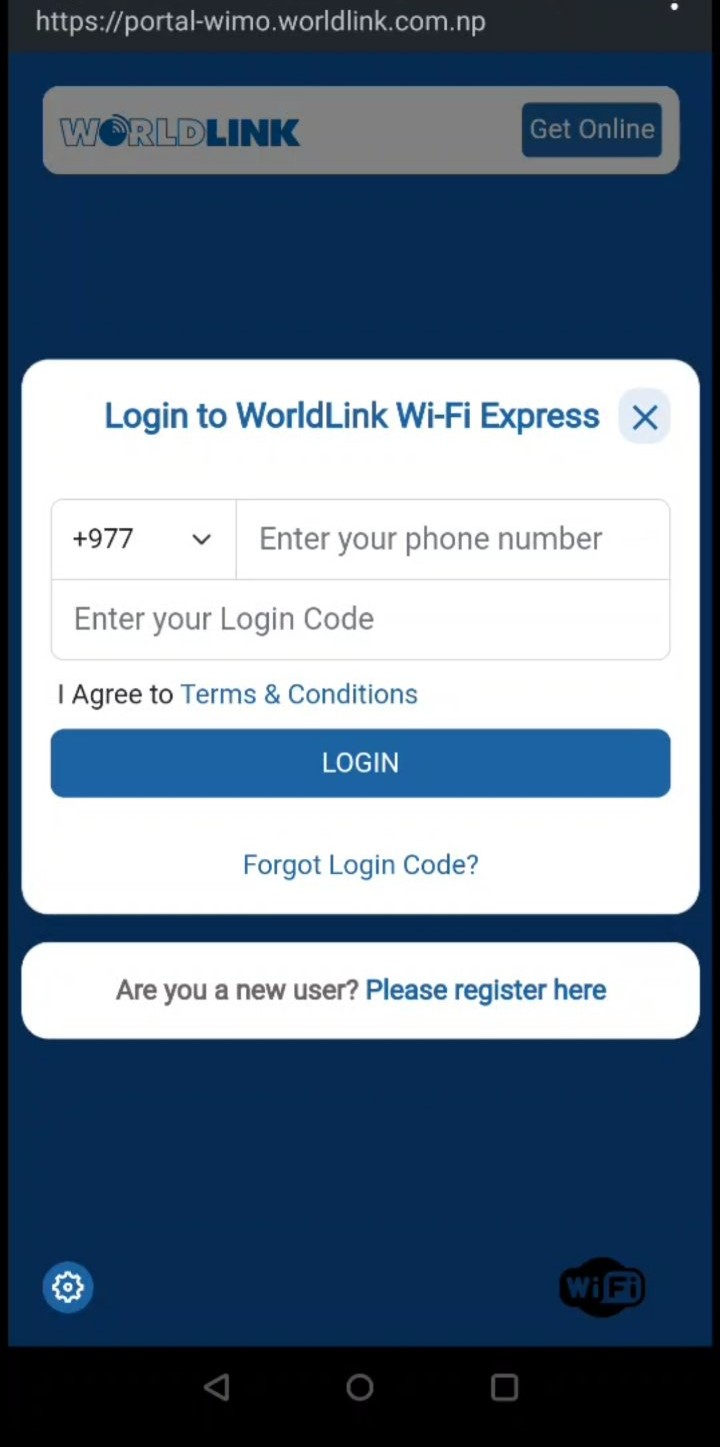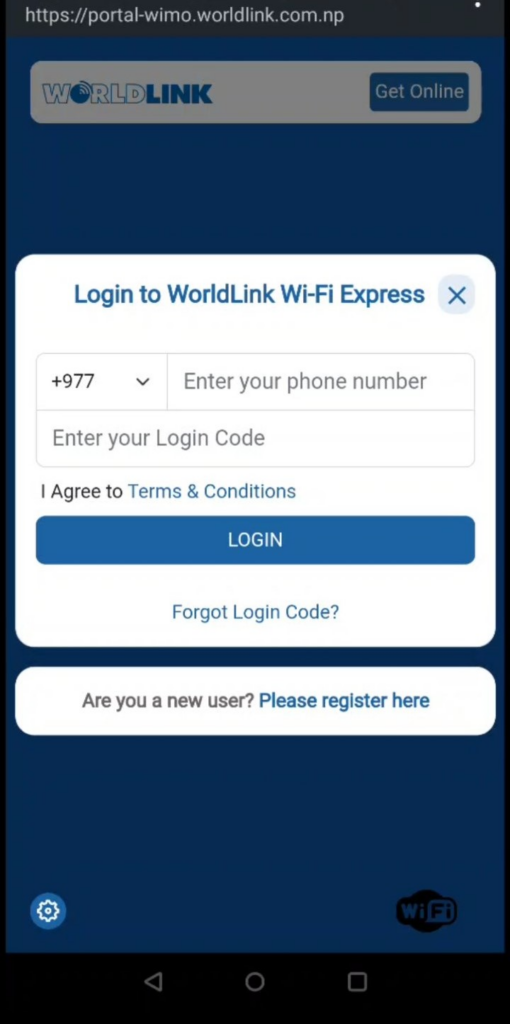 5. Insert your Mobile Number then click on "Next"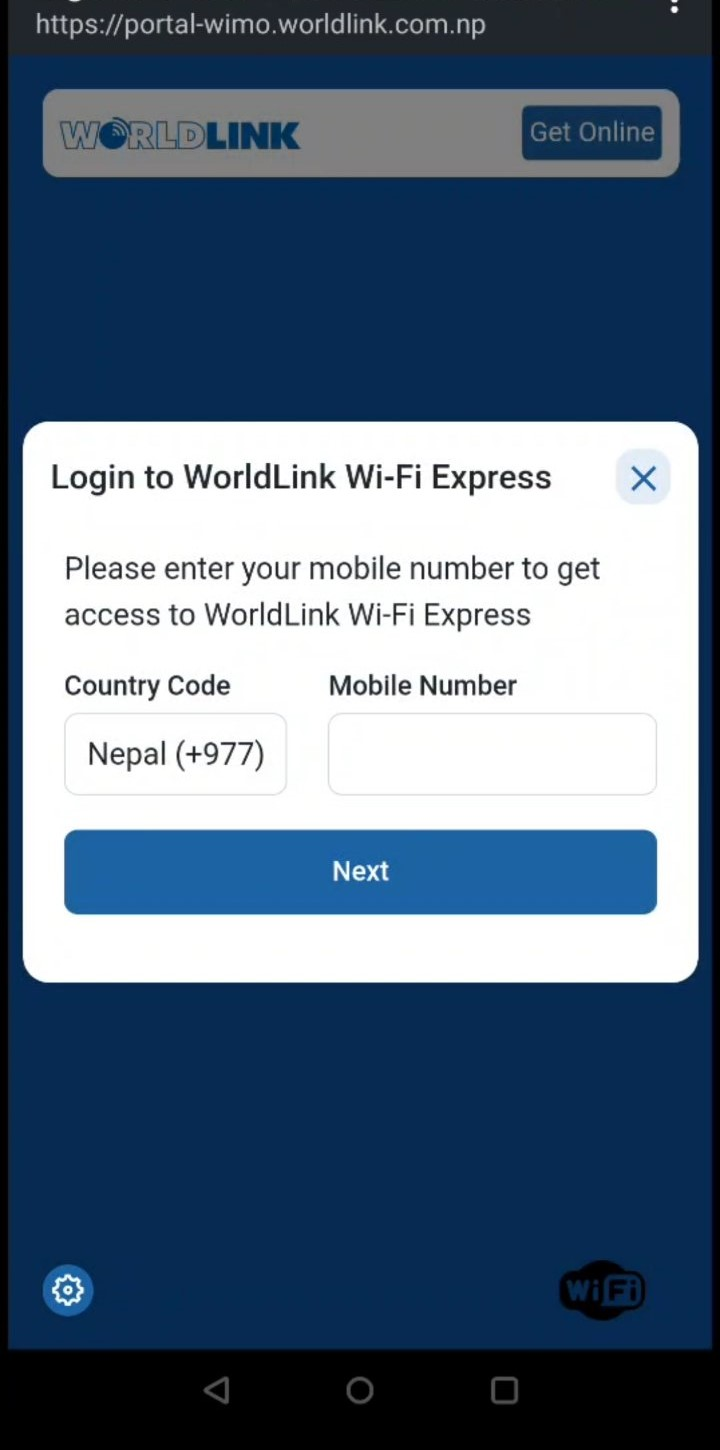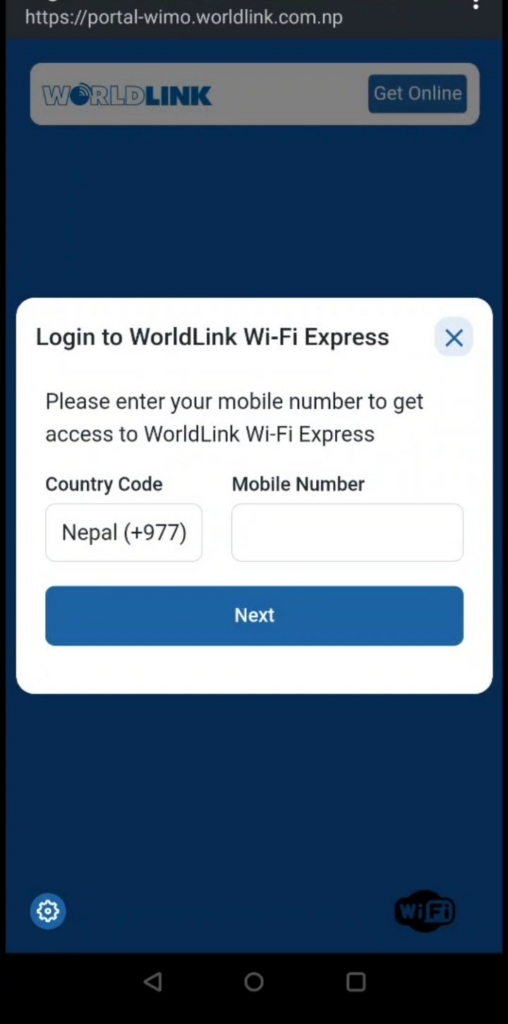 6. Confirm your mobile number if okay click on "Continue" You will get OTP from 35465 checks in your inbox then Insert in Login Code then click on "Login"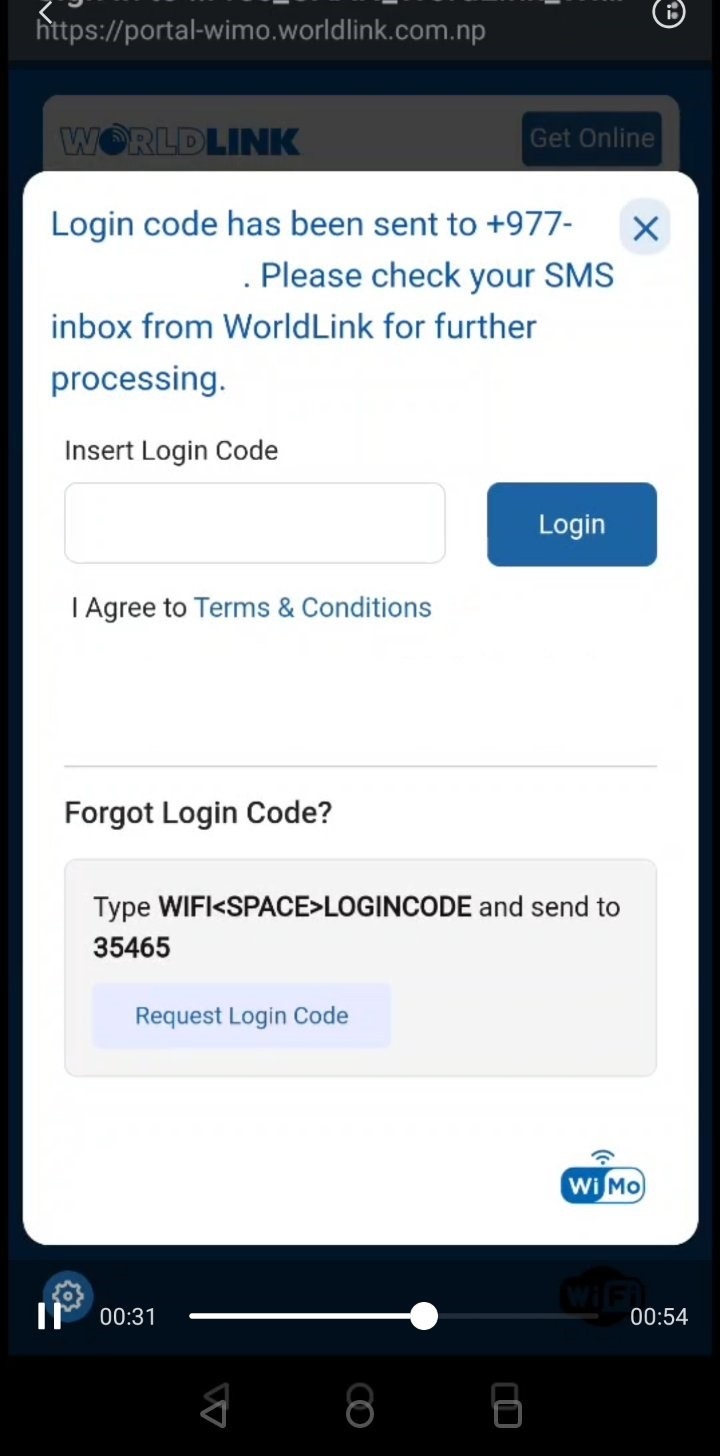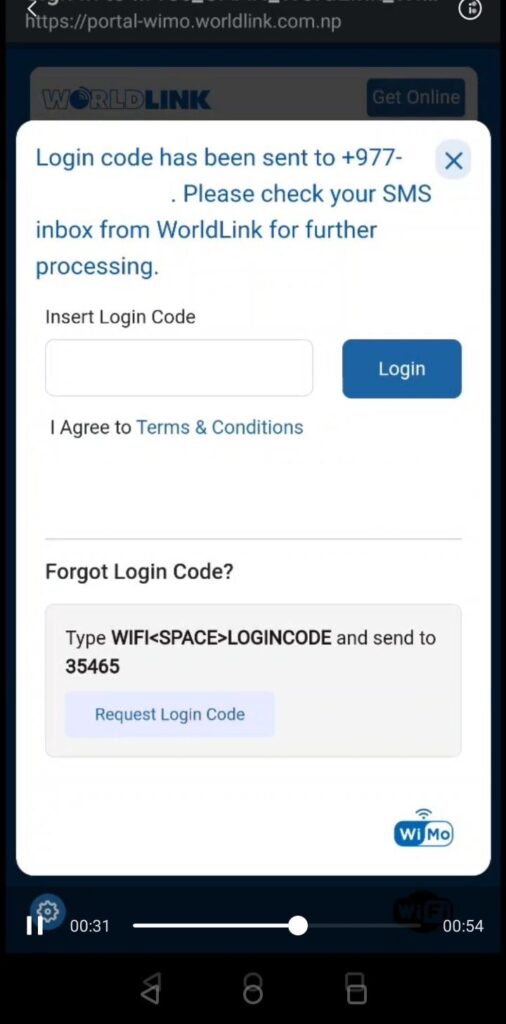 What should you do if an OTP for Free WorldLink Wi-Fi wasn't received at your mobile number?
In such a case, go to your phone's message inbox and type WiFi<Space>LOGINCODE and send it to 35465. You will now receive the OTP to log in to the Free_WorldLink_Wi-Fi SSID. This is the one-time registration process and in case you forget this code then you can repeat the same process and get the code on your mobile.
Is WorldLink free Wi-Fi safe?
Wi-Fi Express is committed to safeguarding the usage and phone number privacy of its users.
As the largest service provider in Nepal, we take the privacy of our customers very seriously and take great care to protect their data.
WorldLink has also attempted to protect free Wi-Fi by using:
1. Industry-leading firewalls
2. Disable all of the NTA-recommended websites
3. Wi-Fi Client Isolation
4. Use secure certificates
5. The OTP-based KYC user identification method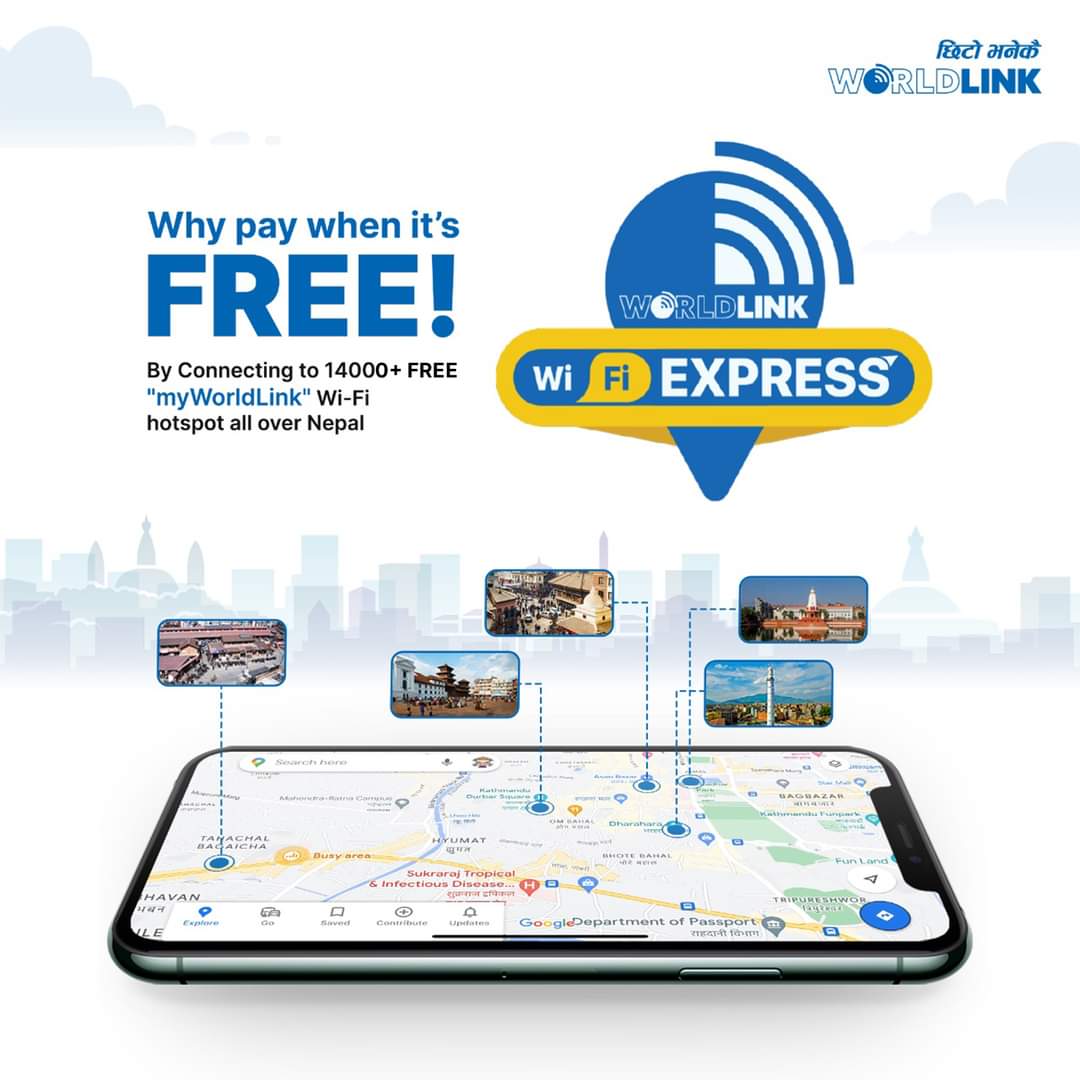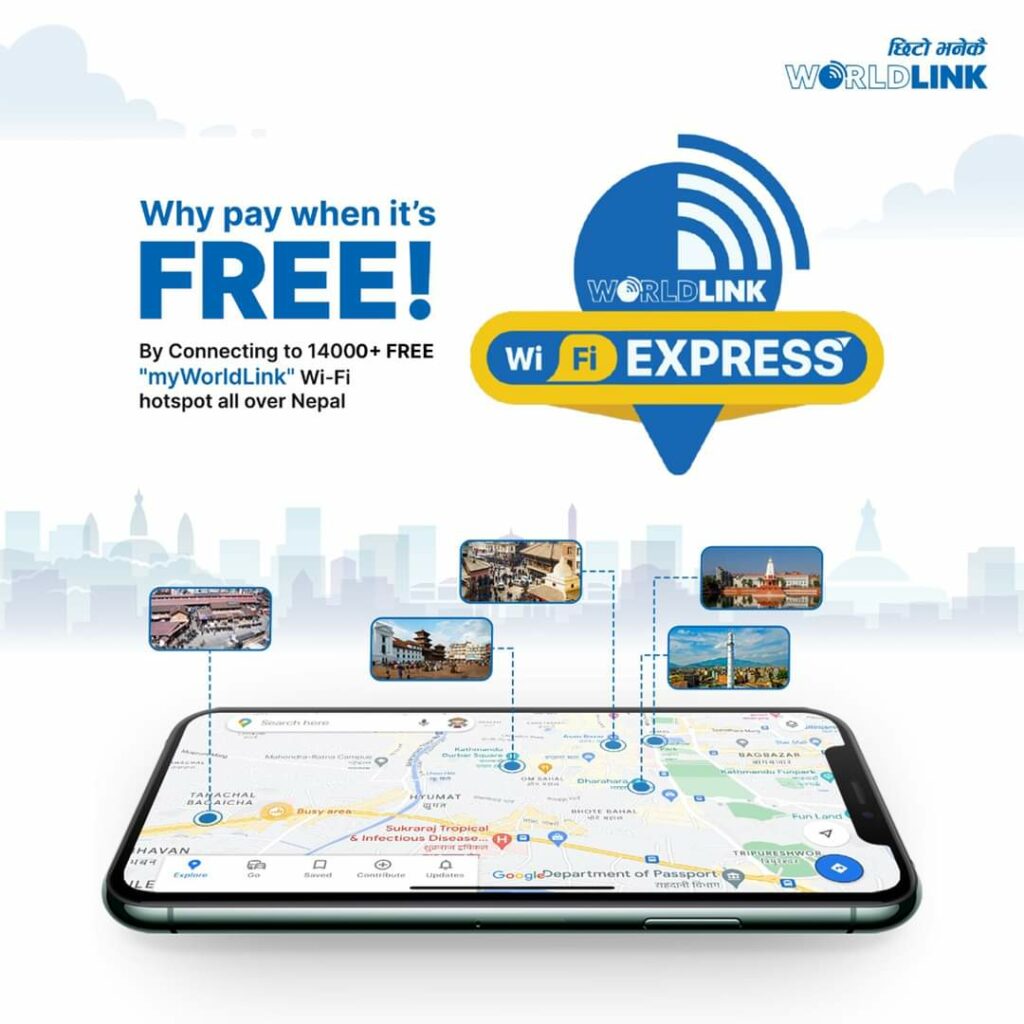 Go Direct: Searching For New Internet Connection? Buy Directly