Internet Price in Nepal 2023

People all over the globe are caught in the crossfire of working/studying from home and poor internet service since the beginning. Good internet service has become a necessity for everyone, and the number of users is steadily growing yearly. The Alliance 4 Affordable Internet (A4A1) ranked Nepal 37th out of 72 low-income nations in terms of internet affordability in 2021. So, it's safe to state that the Internet price in Nepal is affordable as compared to other countries around the world.
The average monthly fee for internet access in Nepal is around $13.8, or Rs 1,600, according to The Internet Connectivity Index-2021. WorldLink Communications has launched the Residential Broadband series in Nepal, as part of its commitment to offering consumers the best packages at the best Internet price in Nepal. The Residential Broadband collection is divided into several sections. The Residential Broadband series comes with 200Mbps, 250Mbps, and 300Mbps Internet connections.
But that's not all; WorldLink offers the option to install numerous Nokia Beacon 1.1 routers with a smart installation facility to provide users with seamless Wi-Fi coverage throughout their home; one Nokia Beacon 1.1 can cover up to 1500 sq. ft. You can now browse TikTok, Facebook, Instagram and call your dear ones on messenger or WhatsApp from the farthest reaches of your home!
Internet
The Internet price in Nepal provided by WorldLink under Residential Broadband as per the package and time duration are as follows:
| | | | | |
| --- | --- | --- | --- | --- |
| Months | 200 Mbps | 250 Mbps | 300 Mbps | |
| 1 Month | Rs. 1,300 | Rs. 1,450 | Rs. 1,550 | Book Now |
| 3 Months | Rs. 3,300 | Rs. 3,600 | Rs. 4,050 | Book Now |
| 12 Months | Rs.12,600 | Rs. 13,800 | Rs. 15,600 | Book Now |
Note: The above-mentioned charges are excluding VAT
200 Mbps:
The 200 Mbps is the first package under the residential broadband series. The 3-month package comes at Rs. 3300 whereas the yearly subscription for the package comes to Rs.12,600. This package is suitable for 3 devices using the internet in their house that are looking for general web browsing, social media usage, smooth voice, video calls, and streaming online video along with occasional online gaming. It also comes along with a Dual-band router and options for the Nokia Beacon Router, a smart installation as per the desire of the customers. The 200 Mbps at just Rs. 3,300 for 3 months is the best bargain for Internet price in Nepal.
250 Mbps:
Like the 200 Mbps package, the 250 Mbps is another package under the residential broadband series. The 3-month package comes at Rs. 3600, whereas the yearly subscription for the package comes to Rs.13,800. It's best for 4 devices using the internet in their house with individuals who are looking to set up good work-from-home infrastructure, web browsing, smooth voice and video calls, and streaming online video. Like its base variant, this also comes along with a Dual-band router and options for Nokia Beacon Router as well as an optional smart installation.
300 Mbps:
The 300 Mbps 3-month package comes at Rs.4050 per month whereas the yearly subscription for the package comes at Rs.15,600. It is suitable for individuals who have 6-7 internet users in their house and are involved in creative professions which require heavy internet bandwidth, streaming in 4K, online gaming, and involved in heavy online activities. Similar to the other two variants it also comes along with a Dual band router and options for Nokia Beacon Router as well as the smart installation option.
Introducing the WorldLink's PUBG Mobile Gamer's Pack
Recognizing the significance of PUBG Mobile's popularity and its impact on the gaming industry, WorldLink, Nepal's leading Internet Service Provider, forged an exciting partnership with PUBG Mobile. This collaboration aims to elevate the gaming experience and provide an uninterrupted and seamless environment for millions of players across Nepal. The focus is on offering a gaming environment that provides players with the same level of ultra-gameplay experienced by professional players during major gaming competitions like PMGC, PMPL, and PMWI.
Players of PUBG Mobile may now enjoy uninterrupted gaming, regardless of their location or device, as a result of WorldLink's innovative network infrastructure and innovative technologies. This innovative cooperation also brings faster upload and download speeds, which significantly lowers latency and boosts overall performance. The launch of WorldLink's PUBG Mobile Gamer's Pack signals the beginning of an altogether new level of gaming experience as a result of this cooperation.
With the technological prowess of WorldLink and the unwavering dedication of PUBG Mobile to providing the highest level of gaming engagement, especially through our modern gaming package, the PUBG Mobile Gamer's Pack, every passionate player in Nepal can look forward to an outstanding and unstoppable gaming odyssey.
Key Benefits of the Collaboration for WorldLink Customers
Seamless Gameplay: WorldLink's optimized network ensures a seamless gaming experience with minimal lags and delays, enabling players to fully immerse themselves in the game without disruptions.
Faster Response Times: With upgraded network architecture, ping times are minimized, allowing players to respond quickly and secure last-second critical kills.
Faster Download and Upload Speeds: Players can now download updates and upload content faster, staying up-to-date with the latest game improvements and effortlessly sharing their gaming experiences.
Enhanced Performance: The collaboration aims to elevate overall gaming performance, giving players a competitive edge in matches.
To complement the collaboration and cater to the specific needs of PUBG Mobile enthusiasts, WorldLink introduced "The WorldLink's PUBG Mobile Gamers Pack." This package offers two variants tailored to deliver optimal gaming experiences:
| | | | |
| --- | --- | --- | --- |
| Months | 250 Mbps | 300 Mbps | |
| 3 Months | Rs. 3,600 | Rs. 4,050 | Buy Now |
| 12 Months | Rs. 13,800 | Rs. 15,600 | Buy Now |
Buy Directly From WorldLink Website and get up to Rs. 1000 cashback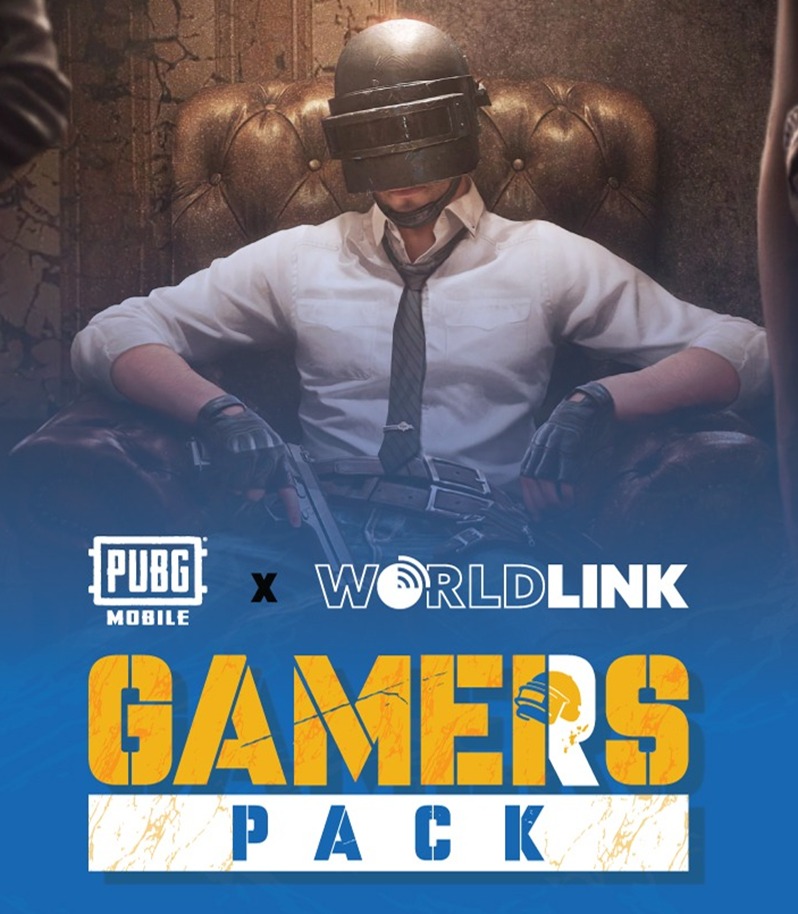 Why choose WorldLink?
As a pioneer in telecommunications and internet services in Nepal, WorldLink has always provided consistent speed and excellent after-sales service to more than 700k households and has always been at the forefront of meeting consumer expectations. And because of such quality, the best internet price in Nepal and timely service, and consistent speed WorldLink has become a household name loved by all of our customers providing the best internet price in Nepal. Along with these basic requirements, the Residential Broadband package includes choices for a Dual Band Router, a Mesh Wifi system-enabled Nokia Beacon Router and Smart Installation.
Worldlink also provides an array of value-added services including
With the myWorldLink App now you can easily get access to your WorldLink account and renew your internet packages and check internet speeds from your mobile phones and pc/laptop browsers.
SafeNet is WorldLink's parental control solution for child safety for home users whereas network security and safety for office users.
NETTV is a smart TV platform designed to bring all sorts of things you enjoy on your phone to your TV, making it easier for people to watch, play, and do everything they love on their TV.
WorldLink understands the importance of remaining connected to the internet both inside the house and outside. To meet this requirement WorldLink has built more than FREE 14000 plus Wi-Fi hotspots across Nepal. WorldLink customers can connect to these hotspots with the Wi-Fi SSID " myWorldLink" with a simple one-time registration. Once registered, customers will automatically connect to the hotspots seamlessly.
We, at WorldLink, always strive to provide uninterrupted internet service and value your investment. However, in case of unavoidable circumstances, we bring you the service to make up for your loss caused by an internet outage or regular maintenance. We will compensate you if your issues are not responded to within 24 hrs.
myWorldLink App Benefits is a loyalty program designed exclusively for WorldLink's existing customers. All WorldLink customers with an active internet account status in myWorldLink App are eligible for the discount. The discount is available across Nepal.
The following are the specific advantages of the additional services with the internet price in Nepal:
Dual Band Router:
WorldLink includes a dual-band router in all of its Residential Broadband Bundles. As the name suggests, a single-band router uses only one of the two bands, the 2.4 GHz band, whereas a dual-band router can use both the 2.4 GHz and 5 GHz bands. When compared to a single-band router, this enables a dual-band router to be more versatile and perform better. The following are the advantages of dual-band routers:
Up to 100x the wireless bandwidth (Picks up both the 2.4 GHz and 5 GHz bands)
Dedicated Wi-Fi Network for video and gaming.
Separate networks avoid interference.
Two separate Wi-Fi networks operate simultaneously.
Nokia Beacon Router 1.1
Nokia Beacon Router 1.1 comes along with mesh Wi-fi systems, which eliminates dead Wi-fi zones. A mesh network is a group of devices that act as a single Wi-Fi network; so there are multiple sources of Wi-Fi around your house, instead of just a single router. The Nokia Beacon router is a must-have for a big house with numerous stories and thick brick walls. To cover all of your home's corners, you might require a mesh Wi-Fi system Nokia Beacon 1.1.
A typical router would be unable to cover all of the sections of such a huge home on its own. If you have a large house, you can add more points for additional Wi-Fi coverage. All points are connected to each other wirelessly. Such a useful and efficient device is bound to be costlier in the market but with a 1500 deposit Worldlink provides this device at a reasonable price to the yearly customer on a standard package which when compared is far more affordable than buying from the outside market.
Benefits of Nokia Beacon Router:
Mesh Wi-Fi: With the Mesh WI-FI Technology, multiple wireless devices are allowed to connect on the same Wi-Fi SSID easily.
Wider 5Ghz Coverage: With wider 5ghz coverage now you are provided with a higher capacity for data transfer which helps to be less prone to other Wi-Fi interference for uninterrupted interference.
Uninterrupted Speed: Now with uninterrupted speed, you get a reliable internet connection that intelligently manages the flow of data between nodes.
Seamless Experience: Another advantage of Nokia Beacon 1.1 is that no manual switching is required and provides you with a seamless internet experience.
Smart Installations
WoldLink offers smart installation for proper router positioning to improve speed and Wi-Fi signal throughout your home. We deliver comprehensive solutions to the customer's door.
Smart Installation ensures the following things:
Proper router positioning/placement as per customer's requirement.
We ensure optimum speed & wireless coverage with multiple add-on routers.
We do proper cabling and mounting for routers.
We provide the installation of power sockets with proper drilling and cabling.
WorldLink Communications are dedicated to taking consumers' needs and demands as matters of utmost consideration, the residential plan is curated for users with every type of need and provides the best internet price in Nepal as per the needs of the customers. Users who are involved in heavy online activities like gaming or streaming can subscribe to 300 Mbps while users looking to do some casual social media surfing and occasional gaming and streaming will be more than happy to subscribe to 250 Mbps or 200 Mbps internet service.
See More: Refer & Get 30 days of FREE internet