Wi-Fi in Nepal: With Best Connectivity 2023
It's no surprise that Wi-Fi in Nepal, like the rest of the globe, has embraced Wi-Fi technology. The introduction of Wi-Fi in Nepal has dramatically altered the country's internet infrastructure. Prior to Wi-Fi, Nepalis could only connect to the internet via mobile data or dial-up cable connections. People may now access the internet from anywhere within the coverage area of a Wi-Fi network. Nepal Telecom launched Wi-Fi in Kathmandu in 2007, and it has subsequently spread throughout the country.
People in Nepal have reaped tremendous benefits from the adoption of  Wi-Fi in Nepal. For starters, it has made internet access considerably more accessible and easy for Nepalis. Without the need for cables or wires, anyone may now connect to the internet from anywhere inside the Wi-Fi network's coverage area. People may now work, study, and communicate online more efficiently as a result of this.
Second, Wi-Fi in Nepal has significantly enhanced the speed and quality of Nepal's internet connection. When compared to mobile internet or cable connections, Wi-Fi gives a quicker and more stable connection. This has improved Nepalese peoples access to internet services such as streaming platforms, online shopping, and social networking.
Third, the availability of Wi-Fi in Nepal has aided the expansion of e-commerce in the nation. Wi-Fi allows more consumers to use online buying platforms, resulting in higher income for e-commerce enterprises. As a result, employment has been created, contributing to the general expansion of the Nepali economy.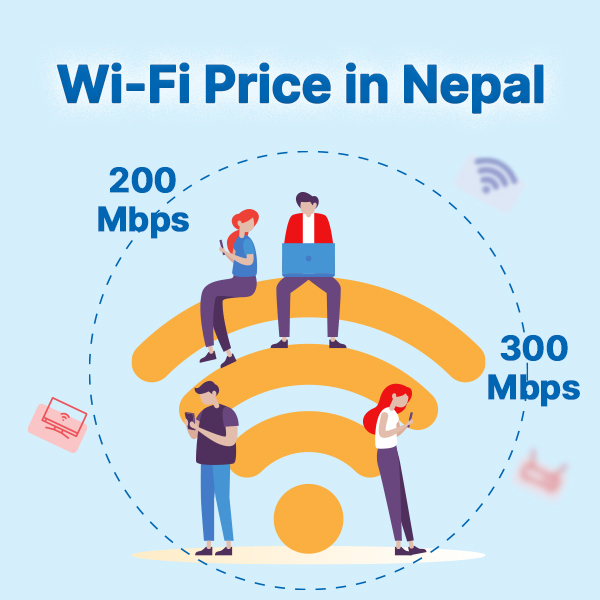 Brief History of the Fastest Wi-Fi in Nepal
Worldlink had its humble beginnings starting with an e-mail service all the way back in 1995, since then the growth of Worldlink till 2023 is uncontested. WorldLink has been able to spread its network coverage to 73 districts which also includes remote areas of Karnali now. And that won't be the end of it as Worldlink targets to serve all 77 districts of the country.
Back in 1996, WorldLink was the first IT company in Nepal to start using Linux for their professional needs. They then expanded their services in 1997 to include dial-up internet access. Within just four years of starting, WorldLink was able to spread its service to other locations beyond Kathmandu Valley in 1999. The very next year, they even installed VSAT for international bandwidth.
Towards the end of 2010, WorldLink established wireless connectivity in several major cities throughout Nepal. WorldLink also installed Cross Border Fiber for international capacity, allowing for smoother communication with other countries. Additionally, WorldLink had developed a solid partnership with Google, enabling them to host local servers.
Price of Wi-Fi in Nepal
A recent report, The Internet Connectivity Index-2021, showed that the average monthly cost for an internet connection in Nepal is around $13.8, or Rs 1,600. However, WorldLink Communications is dedicated to providing customers with the best price for Wi-Fi in Nepal at affordable rates. As part of this commitment, they've introduced the Residential Broadband series, which includes different Wi-Fi plans in Nepal with speeds of 200 Mbps, 250 Mbps, and 300 Mbps. 
200 Mbps:
The 200 Mbps internet packages at WorldLink are the initial offerings in the company's residential broadband series. This package is suitable for 3–4 devices that access the internet at home and are used for social networking, general web browsing, streaming online video, occasional online gaming, and seamless phone and video calls. For voice and video interactions, 200 Mbps internet packages are the best option.
With the increased use of online communication technologies like voice-over-IP (VoIP) conversations, streaming services, and video conferencing, and also the availability of new mobile devices in the market which has higher RAM and higher screen display its necessary to have fast internet connection for clear and continuous communication.
As mobile devices become more advanced with higher RAM capacities and higher screen resolutions, they are capable of handling more data-intensive tasks such as video calls, streaming high-definition content, and running multiple applications simultaneously. These tasks require a stable and fast internet connection to ensure smooth and uninterrupted performance.
Users are able to keep in touch with friends, family, and coworkers without any interruptions thanks to the 200 Mbps speed, which smooth experience at the customer end, the voice and video conversations are seamless and have high-quality audio and video. It maintains an appropriate balance between price and speed, making it an excellent option for families or smaller residences who need dependable fast internet access without going over budget. If the WorldLink customer subscribed the 200Mbps plan then his upload speed will be 100Mbps.
It's important to note that internet speeds can vary depending on various factors such as network congestion, distance from the server, and the performance of your devices and network equipment. The actual download speed you experience may be slightly higher or lower than the theoretical bandwidths you have subscribed to.
250 Mbps:
The 200 Mbps internet packages at WorldLink are the higher internet speed offerings in the company's residential broadband series in terms of speed as 250 Mbps is faster than 200 Mbps. 250 Mbps is faster than 200 Mbps in terms of speed. This package is suitable for 4-5 devices. You can download and upload data more quickly with a 250 Mbps connection than you can with a 200 Mbps connection. As a result, you could enjoy faster file transfer, fluid HD video streaming, quicker web page and application loading times, and better online gaming performance.
Performance may be significantly improved with the additional 50 Mbps speed, especially for data-intensive activities that need a lot of bandwidth, such as streaming high-quality video, playing online games, or transferring huge files. However, additional elements like network congestion, distance from the server of your internet service provider, and your computer's speed might also affect the real difference in performance.
A 250 Mbps internet connection is appropriate for gaming and streaming since it provides a speedy and consistent internet speed that can satisfy online gaming requirements. However, as we already noted, it depends on how many devices are connected to the Wi-Fi network at home. If you have many devices connected to the internet and they are all actively downloading large files or doing resource-intensive activities, the amount of bandwidth available for gaming may be affected even with a 250 Mbps internet connection.
A significant portion of the available bandwidth may be used by huge file downloads or multimedia streaming, leaving less for online gaming. Additionally, using a wired Ethernet connection for gaming instead of relying on Wi-Fi can also help minimize latency and improve gaming performance.
We advise limiting the number of devices connected at once. Unused devices can be disconnected or turned off to make more bandwidth available for gaming.
Consider upgrading to a higher internet speed plan if you frequently get into bandwidth issues while gaming with many devices connected. A quicker internet connection with greater bandwidth can provide you with more gaming space, especially if you have many devices connected to the internet at once. Moreover, If the WorldLink customer subscribes to the 250 Mbps plan, then his upload speed will be 125 Mbps.
300 Mbps:
The other internet package at WorldLink is 300 Mbps, which is 100 Mbps faster than the 200 Mbps internet plan. A 300 Mbps plan can support greater data transfer speeds, enabling quicker downloads, slicker streaming, and better latency for online gaming.
It is appropriate for households with 6-7 internet users and creative professions that demand a lot of internet bandwidth, such as 4K streaming, online gaming, and other resource-intensive online activities. It features a dual-band router, options for the Nokia Beacon Router, smart installation, and other features that are shared with the other versions.
When compared to a 250 Mbps internet plan, a 300 Mbps internet plan may provide better gaming performance since more bandwidth is available for gaming traffic even when other devices are downloading or streaming content. Less lag, quicker load times, and better gameplay may come from this, especially in online multiplayer games where low latency is essential.
You may connect numerous devices concurrently, including laptops, smart TVs, game consoles, smartphones, and tablets without noticeably degrading performance. With little buffering and interruption, 4K ultra-high definition (UHD) video content may be streamed.
It's essential to remember that the real performance may differ based on elements like network congestion, distance from the server, device and network equipment performance, and the specific online activities you participate in.
Monthly Wi-Fi in Nepal Price
WorldLink Communications is committed to putting customers' needs and wants first. The Wi-Fi in Nepal plan is designed for individuals with varying needs and offers the best internet pricing based on their needs. Consumers who engage in intensive online activities such as gaming or streaming may subscribe to 300 Mbps internet service, whereas consumers who want to conduct some light social media browsing and occasional gaming and streaming can subscribe to 250 Mbps or 200 Mbps internet service.
The price of Wi-Fi in Nepal is further broken down for ease and convenience.
| | |
| --- | --- |
| Wi-Fi ( Bandwidth) | Price |
| 200 Mbps | Rs. 1300 |
| 250 Mbps | Rs. 1450 |
| 300 Mbps | Rs. 1550 |
Monthly Wi-Fi in Nepal Price
Unlocking a World of Enhanced Internet Experience with WorldLink Value-Added Services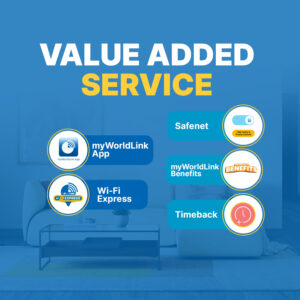 At WorldLink, we go above and beyond to enhance your internet experience. We are dedicated to not only providing top-notch connectivity but also a range of value-added services tailored to meet your needs. Our goal is to exceed your expectations and deliver an exceptional customer experience. As a valued WorldLink customer, you can take advantage of a wide array of exclusive value-added services that will further enrich your connected journey.
As a WorldLink customer, you not only benefit from reliable and high-speed internet but also gain access to a range of value-added services designed to elevate your online experience.
Let's explore some of the exclusive offerings available to WorldLink customers:
Wi-Fi Express:
Wi-Fi Express provides unlimited free Wi-Fi access across Nepal through a vast network of over 14,000 hotspots. Seamlessly connect to multiple hotspots simultaneously and enjoy uninterrupted connectivity wherever WorldLink's Wi-Fi hotspots are available. If you are already a WorldLink customer and haven't connected to a Wi-Fi hotspot, check our blog to get complete Wi-Fi Express information.Click here
myWorldLink App:
Download the myWorldLink app and take control of your WorldLink account. Manage your subscription, monitor data usage, pay bills, and stay updated with the latest offers and promotions, all from the convenience of your mobile device. WorldLink Customers can check the remaining days, make online payments, complain about internet issues, sync multiple WorldLink accounts, change and view their Wi-Fi password, and many more. You can check our tutorials section, where all the processes have been demonstrated to know the full details. To download click the link below.
For Andriod: Download Now
For IOS: Download Now
Time Back:
At WorldLink, we understand the importance of a seamless internet experience. We are committed to delivering uninterrupted service and ensuring that your investment in our internet plans is valued. However, we recognize that certain circumstances, such as internet outages or regular maintenance, may result in temporary disruptions. That's why we are pleased to introduce TimeBack, a unique service designed to make up for any inconvenience caused during such situations. In the event of an internet outage or scheduled maintenance that leads to a disruption in your service, TimeBack comes into play.
We are dedicated to resolving any issues promptly, and if your concerns are not addressed within 24 hours, we will compensate you for the inconvenience faced. When you experience an internet outage or face delays in resolving your issues within 24 hours, you can reach out to our customer support team. Our dedicated representatives will assess the situation and determine the appropriate compensation based on the duration of the disruption. We aim to ensure that you receive fair compensation for any inconvenience caused.
myWorldLink Benefits:
Discover a world of exclusive benefits with our myWorldLink Benefits program. As a WorldLink customer, you can enjoy special offers, discounts, and promotions from our partner merchants across various sectors, including dining, shopping, travel, and entertainment. This value-added service is designed to provide you with exclusive discounts and offers throughout Nepal. With an active internet account status and the myWorldLink App, you can take full advantage of these incredible benefits and enjoy savings on a wide range of products and services. With myWorldLink Benefits, you can enjoy discounts of up to 50% at select establishments. To find out the available discounts and participating outlets, click the below link and simply search for your desired outlets and unlock unbelievable savings.
Learn more: myWorldLink Benefits details with outlets