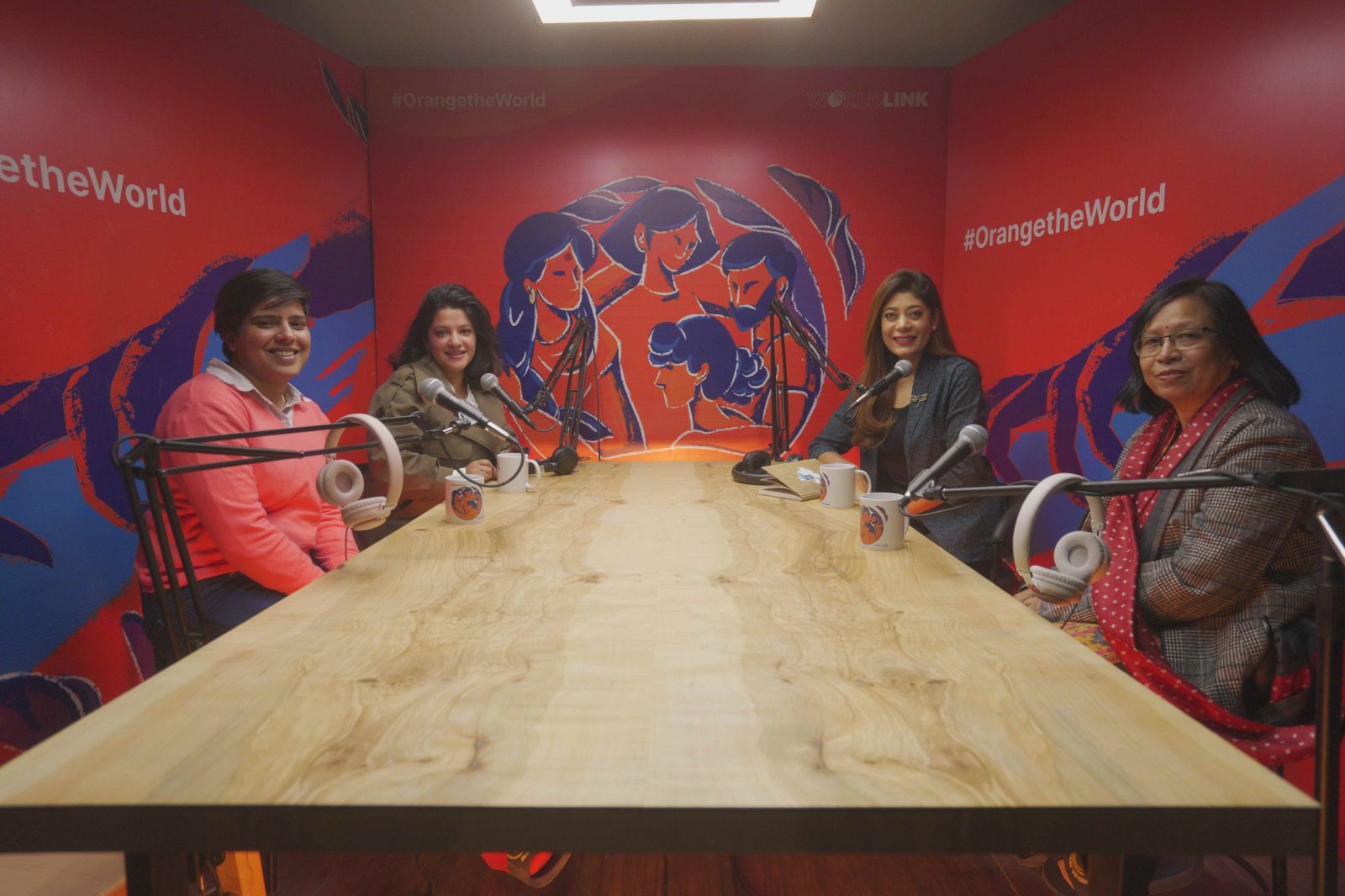 16 Days of Activism against Gender-based Violence – #OrangetheWorld
Date: 25th November22 – 10th December22
On the celebration of the International Day for the Elimination of Violence against Women, WorldLink Communications broadcasted PODCAST SERIES under the theme UNiTE – #OrangetheWorld Project "Women of Nepal".
Worldlink, the country's largest internet service provider company, has launched a 'podcast' campaign under its Social Responsibility (CSR) to raise awareness against violence against women. Under the campaign called 'Orange the World', former Miss Nepal Sugarika KC shaped these podcasts inviting ten influencing and prominent women of Nepal women from varied professional backgrounds and proficiency to speak, educate, and inform the public about gender violence issues, drawing attention to the many ways violence against women and children affects the lives of all people in all communities on a national and international scale.
With the primary objective of encouraging society to recognize that violence against women and children is a societal problem rather than a government or criminal justice system concern, under this podcast series https://www.youtube.com/@WorldLinkCommunications/videos, we can listen to Binita Rai's aspiring story to become Nepal's first female International Federation of Bodybuilding (IFBB) and Fitness Pro-Card Holder. Roma Neupane, who became famous for dancing with one leg and gives motivation to never give up on our dream. Similarly, Meera Chaudhary, the first woman deputy inspector general, explained the power of choice and dignity, and Prapoosa KC, a human rights advocate, talked about the prevalent laws and existing policies on the violence against women and their experiences. Correspondingly, in the podcast, we can listen to the astounding journey of Gunakeshari Pradhan, Nepal's first computer engineer, and Shailee Chaudhary, a young activist who strives to encourage and motivate young people to advocate for their rights. Likewise, we attend with Indira Rana Magar, a social worker and a chairperson of Prisoner's Assistance Nepal, a non-profit organization that looks after the children of criminal parents living in the jails, Preeti Kulung Rai, the youngest player of Nepal's women's national football team, Aastha Sharma, the Managing Director of Shequal Foundation and Girls in Tech Nepal, Prof. Dr. Neelam Shrestha Pradhan, the first woman Professor in Physics in Nepal and has almost three decades of teaching experiences and WorldLink's Head of Social Responsibility (CSR) Anupa Jalan in our podcast interview series.