WorldLink-Khalti Dashain offers, 24 couples to travel to Dubai.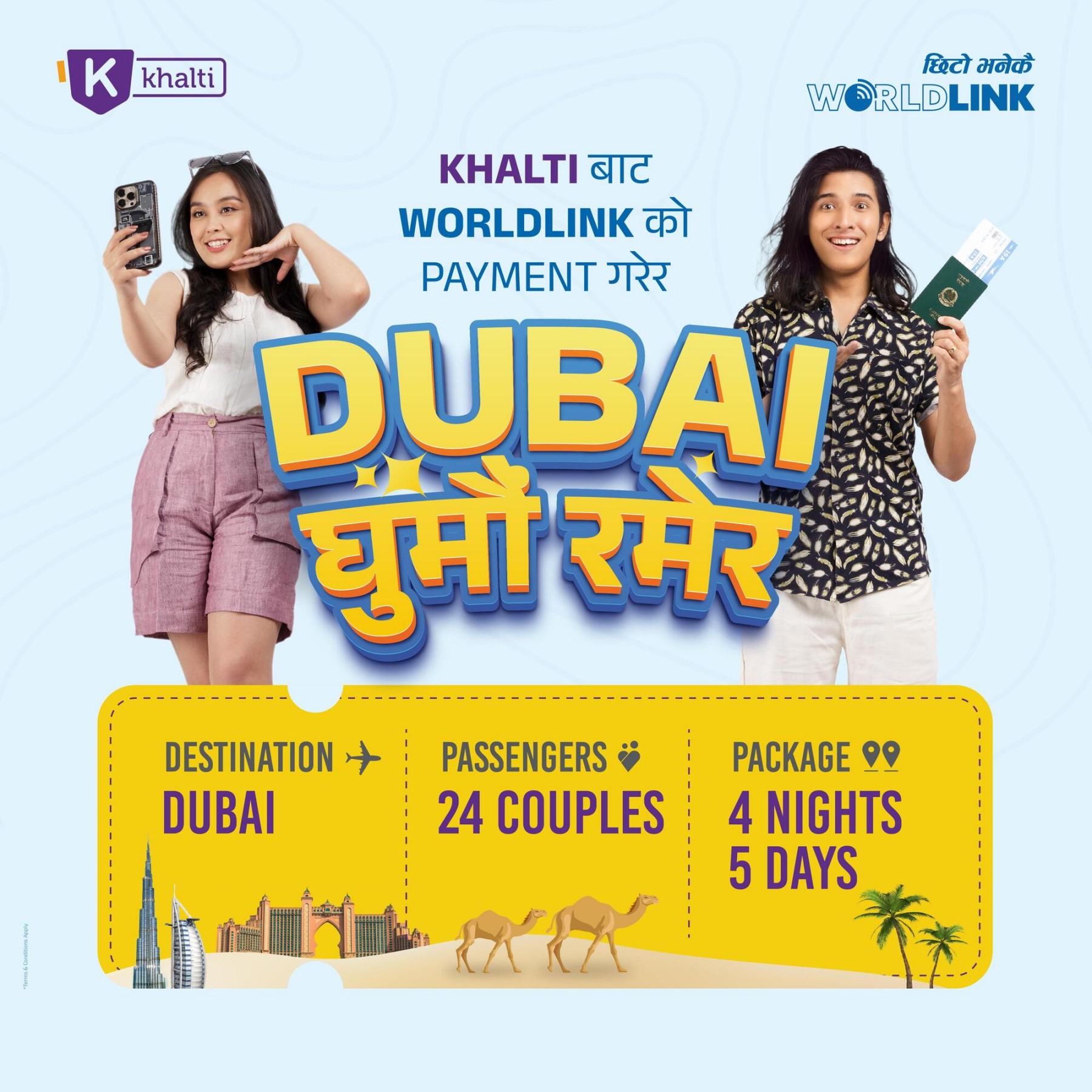 Kathmandu. Digital Wallet Khalti has launched an offer to visit Dubai under the 'Dashain Campaign' targeting Worldlink customers. The company has brought such an offer to 'visit Dubai' to 24 pairs of customers who pay for Worldlink's internet from their pockets.
To participate in this offer, the customer has to pay Internet service provider WorldLink's internet fee out of pocket. Among those paying out of pocket, 24 couples will get a chance to visit Dubai for three months at the rate of two couples every week. All expenses incurred for the 4-night and 5-day Dubai tour will be borne by Khalti.
In particular, users who pay internet fees for three months or 12 months will be able to participate in this offer. Users will get two vouchers after paying three months of internet charges out of pocket, while those paying for 12 months will get five vouchers. According to Worldlink, Khalti will draw two vouchers every week through the three vouchers and take them on a trip to Dubai.
"We are excited to come up with such attractive campaigns to promote digital payments," said Vinay Khadka, CEO of Khalti. "We are committed to continuing such campaigns."
Keshav Nepal, CEO of WorldLink, said that he is happy that Khalti Digital Wallet has done such a campaign targeting the customers of WorldLink. "We are excited to launch such a campaign for the first time," Nepal said. "Especially with the aim of promoting digital payments, such a campaign has been launched. We are confident that such campaigns will increase the use of digital payments."
According to WorldLink, now 65 per cent of users pay the company's internet fees digitally. Lately, Khalti has been conducting attractive programs to attract users.
The recently completed 'Jatra Campaign' by Khalti is a prime example of this. Apart from that, the company recently introduced an offer to win an iPhone 14 when topping up its SIM. Nepal believes that such attractive offers have had a positive effect on the customers of Worldlink.
वर्ल्डलिङ्कका ग्राहकलाई खल्तीको दशैं अफर, २४ जोडीले दुबई घुम्ने पाउने
काठमाडौं । डिजिटल वालेट खल्तीले वर्ल्डलिङ्कका ग्राहकलाई लक्षित गर्दै 'दशैं क्याम्पियन' अन्तर्गत दुबई भ्रमणको अफर ल्याएको छ । वर्ल्डलिङ्कको इन्टरनेटको भुक्तानी खल्तीबाट गर्ने गर्नेमध्ये २४ ग्राहकको जोडीलाई 'दुबई भ्रमण' गराउन कम्पनीले यस्तो अफर ल्याएको हो ।
यो अफरमा सहभागी हुन ग्राहकले इन्टरनेट सेवा प्रदायक वर्ल्डलिङ्कको इन्टरनेट शुल्क खल्तीबाट भुक्तानी गर्नुपर्ने हुन्छ । खल्तीबाट भुक्तानी गर्नेमध्ये हरेक हप्ता दुई जोडीका दरले तीन महिनासम्म २४ जोडीले दुबई घुम्ने मौका पाउनेछन् । ४ रात ५ दिनको दुबई भ्रमणका लागि लाग्ने सम्पूर्ण खर्च खल्तीले नै बेहोर्ने छ ।
विशेषगरी तीन महिना वा १२ महिनाको इन्टरनेट शुल्क भुक्तानी गर्ने प्रयोगकर्ता यो अफरमा सहभागी हुन पाउनेछन् । तीन महिनाको इन्टरनेट शुल्क खल्तीबाट तिरेपछि प्रयोगकर्ताले दुई ओटा भौचर पाउनेछन् भने १२ महिनाको भुक्तानी गर्दा पाँच ओटा भौचर पाउनेछन् । खल्तीले तीनै भौचरमार्फत हरेक साता लक्की ड्र गरी दुई ओटा भौचर छानेर दुबई भ्रमणमा लिने वर्ल्डलिङ्कले जनाएको छ ।
"डिजिटल भुक्तानीलाई प्रवर्द्धन गर्नका लागि यस्ता आकर्षक ल्याउन पाउँदा हामी उत्साहित छौं," खल्तीका सीईओ विनय खड्काले भने, "यस्ता क्याम्पियनलाई निरन्तरता दिनेमा हामी प्रतिवद्ध छौं ।"
खल्ती डिजिटल वालेटले वर्ल्डलिङ्कका ग्राहकलाई लक्षित गर्दै यस्तो क्याम्पियन गरेकोमा आफू हर्षित भएको वर्ल्डलिङ्कका सीईओ केशव नेपालले बताए । "यस्तो क्याम्पियन पहिलो पटक ल्याउँदा हामी उत्साहित छौं," नेपालले भने, "विशेषगरी डिजिटल भुक्तानीलाई प्रवर्द्धन गर्ने उद्देश्यले यस्तो क्याम्पियन सुरु गरिएको हो । यस्ता क्याम्पियन गर्दा डिजिटल भुक्तानीको प्रयोग बढ्नेमा हामी विश्वस्त छौं ।"
वर्ल्डलिङ्क का अनुसार अहिले ६५ प्रतिशत प्रयोगकर्ताले सो कम्पनीको इन्टरनेटको शुल्क डिजिटल माध्यमबाट भुक्तानी गर्ने गर्छन् । खल्तीले पछिल्यो समय प्रयोगकर्तालाई आकर्षित गर्न यस्ता आकर्षक कार्यक्रमहरू सञ्चालन गर्दै आएको छ । खल्तीले हालै सम्पन्न गरेको 'जात्रा क्याम्पियन' यसको एउटा जल्दोबल्दो उदाहरण हो । त्यसबाहेक पनि कम्पनीले हालै आफ्नो सिममा टपअप गर्दा आईफोन १४ जित्ने अफर ल्याएको थियो । यस्ता विभिन्न आकर्षक अफरले वर्ल्डलिङ्कका ग्राहकलाई सकारात्मक प्रभाव परेको नेपालको विश्वास छ ।