WITSA Global Excellence ICT Award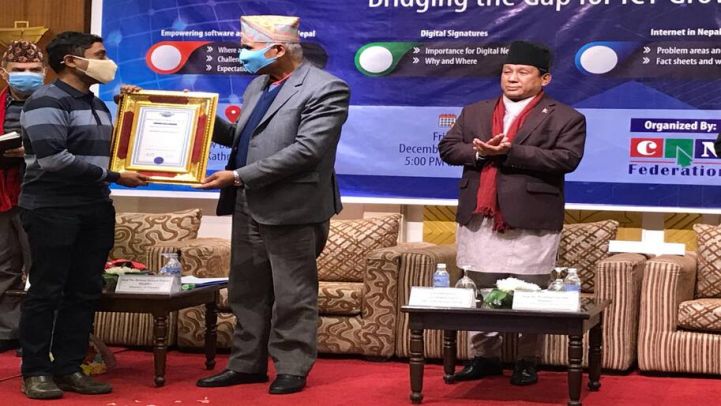 22 December, 2020
We take immense pride to announce that our Chairman and Managing Director, Mr. Dileep Agarwal received the prestigious "WITSA Global Excellence ICT Award" from Hon'ble Bishnu Prasad Poudel, Minister, Ministry of Finance at the program arranged by CAN Federation. CAN Federation organized "1st Industry-Government Dialog: Bridging the Gap for ICT Growth" on Friday, 18th December, 2020 at 5:00 PM (i.e. Poush 3, 2077) at The Everest Hotel, New Baneshwor, Kathmandu. This program was attended by eminent personalities from both government and from the industry like Hon'ble Parbat Gurung, Minister, MoCIT, Hon'ble Pushparaj Kandel, Vice Chairman, National Planning Commission, Mr. Maha Prasad Adhikari, Governor, Nepal Rastra Bank , Mr. Shekhar Golchha, President, FNCCI , Mr. Purushottam Khanal, Chairman, NTA , Mr. Asgar Ali, IT Consultant – Prime Minister of Nepal, Mr. Anil Kumar Dutta, Joint Secretary, Ministry of Education, Science and Technology and Mr. Prem Sharan Shrestha, Director General, Department of Information Technology .
This prestigious "WITSA Global Excellence ICT Award" was given for Digital Inclusion category in recognition for our outstanding work in connecting the unconnected in Karnali through our internet services. The award also bears the testimony of the unrelenting grit and hard work of the entire Karnali Project team.
This award will also encourage the entire WorldLink team to strive harder to bring affordable and fast internet services to the nook and corner of Nepal.
The World Information Technology and Services Alliance (WITSA) is the leading recognized international voice of the global ICT industry, whose members from over 80 countries and economies represent more than 90 percent of the world ICT market.
The WITSA Global ICT Excellence Awards is one of WITSA's most popular programs. What makes the Global ICT Excellence Awards unique is that nominations are made by experts – the national and regional WITSA ICT industry associations.