KBCF and WorldLink Partner for Digital Karnali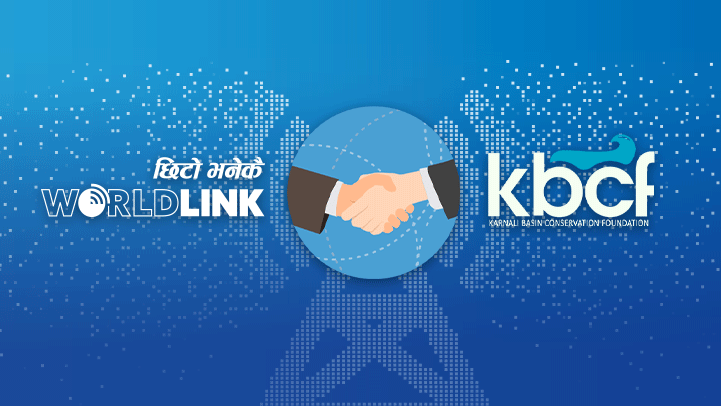 18 October, 2020
he Karnali Basin Conservation Foundation (KBCF), a pioneer nonprofit organization promoting biodiversity conservation and economic development, is collaborating with Nepal's internet leader, WorldLink Communications Limited, to bring socio economic development to the Karnali and Sudurpashchim provinces of the Karnali River Basin (KRB). While KBCF works towards funding activities that promote biodiversity conservation, livelihood opportunities, healthcare, access to quality education, and eco-tourism, WorldLink is expanding its services to remote and rural areas in Nepal. Making the internet available to the under-privileged will help bridge the great divide between the connected and not connected. As the current COVID-19 pandemic has demonstrated, with schools and businesses having to move online, access to the internet is more important than ever.
Mr. Radhesh Pant, Chairperson of KBCF, elaborated on the importance of this collaboration, "As there is still a lot to accomplish in the region, it is important to lay a strong foundation for long-term and sustainable growth. Having infrastructure, both soft and hard, for a digital economy will be key in this regard. Our aim is to support the provinces in the region to leapfrog in the development process, and WorldLink is the ultimate partner to achieve this pioneering objective."
Similarly, Mr. Dileep Agarwal, Chairman and Founder/Director of WorldLink Communications Ltd. said, "We will jointly work towards identifying growth zones and providing internet access for commercial business, community groups, and individuals to leverage the opportunities of a stable digital platform, fulfilling our vision of creating a 'Digital Karnali.' This project is in perfect synergy with our vision statement: 'To connect everyone, anywhere, all the time'."
Both parties pledge to work together to achieve economic, environmental, and social impact through employment creation and support to local entrepreneurs and medium and small enterprises. In addition, both KBCF and WorldLink will support the promotion of local products and sustainable local supply chains. This strategic partnership will weave opportunities together, ensuring that the people and communities of the KRB are digitally supported and inspired to pursue prosperity.
About the Karnali Basin Conservation Foundation
With support from USAID's Paani (Water) Project in Nepal, DSV Advisors (a joint venture company of Dolma Advisors Private Limited, SAFAL Partners, and VRock & Company Pvt. Ltd) created the KBCF to help develop the broader investment ecosystem in the KRB, with a focus on biodiversity conservation and equitable development. In the long term, KBCF aims to create an economically thriving Karnali River Basin that balances conservation and development, supporting Nepal on its journey to self-reliance through development of the private sector.
About WorldLink
WorldLink completes 25 years of service and is the largest internet and network service provider of Nepal . It is actively expanding its services to rural areas and remote villages in Nepal. By giving the underprivileged access to the internet, WorldLink aims to close the gap between the connected and unconnected. It has always been, and remains committed, to delivering excellence in service and development.